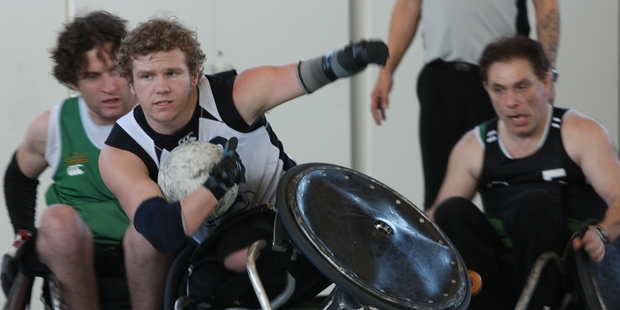 You'd think that somebody who had won two Paralympic Games gold medals for the non-contact sport of swimming would tend to shy away from another affectionately known as Murderball.
But Whangarei double-Paralympic champion Cameron Leslie is on his way to Vancouver, Canada, with the NZ Wheel Blacks team to take part in the sport that is officially known as wheelchair rugby.
It's a tough, uncompromising sport that sees its participants bash and crash into each other and sometimes come away bloodied - hence the Murderball tag - and over the next week eight of the world's top 10 teams will be fighting for the Canada Cup in Vancouver. The event is a warm-up for the Wheelchair Rugby World Championships in Denmark in August.
Leslie - who is also the Northern Advocate's sports editor - said the event was all about finding out where the Wheel Blacks stood in the order of things internationally after a period of rebuilding.
"We used to be one of the top teams, but now we're seen, supposedly, as easy beats, so we've got something to prove," he said ahead of flying out yesterday.
"We're now coming out of a rebuilding phase so we should start to see some results and, hopefully, we'll start at the Canada Cup."
Leslie is a double Paralympic 150m individual medley swimming gold medallist and is aiming for a third games in Rio, Brazil in 2016, but says he's not too concerned about injuries possibly affecting his swimming training. One of the big attractions of wheelchair rugby is that it's a team game.
"Swimming is a very individual sport and Murderball is a very rough sport, but I play it for the camaraderie and because it's a team sport. Being able to share the experiences as part of a team is awesome," he said.
"You can share the good times and disappointments with the team. Knowing there are 10 other people going through the same experiences and feeling the same way is great."
The Wheel Blacks will take on Australia, Canada, Sweden, Japan, Great Britain, Denmark and Switzerland at the Canada Cup, which starts on Thursday.
All of the teams at the Canada Cup are ranked higher than the Wheel Blacks, who are coming out the other side of an extended rebuilding phase, which means there will be no easy beats.
One of the original Wheel Blacks, 41-year-old Sholto Taylor, has been given the captain's tag by coach Peter Martin who believes the former Hawke's Bay resident is still as good as he ever was.
Martin believes the Canada Cup is a great opportunity for the Wheel Blacks to put their plays, and players, to the test against quality opposition.
Canada Cup serves as another stepping stone for the Wheel Blacks towards the 2016 Rio Paralympics, where the Kiwis hope to achieve a podium finish.