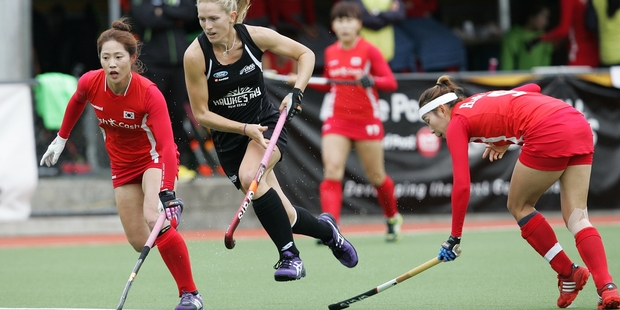 Northland Olympian Stacey Michelsen has successfully made her first appearance for the Black Sticks in a year, helping them to a win this week.
While Michelsen's minutes on the turf in Taupo against China were limited, it's still the first step on the road to returning to the starting line-up.
Michelsen, who injured her knee in Whangarei at the Four Nations Tournament in April last year, helped the Black Sticks to their 3-2 win over China on Monday night.
Down by one goal at half-time, the Black Sticks played a strong second half with two brilliant goals from Sophie Cocks and Jordan Grant sealing the result for the Kiwis.
Head coach Mark Hager said the result was pleasing but there was still plenty to work on going into game two tonight.
"It was a pretty poor first half. Our basic skills weren't where we needed them to be," Hager said.
"The second half was a lot better and we saw the result of pressure and got a lot of intercepts which flowed on to our attacking game.
"Our players love to run and we did that well in the second half, so we need to let them do that and continue putting pressure on the opposition."
New Zealand dominated the opening minutes of the game, but allowed China to score a field goal against the run of play through Jiaojiao De.
Emily Naylor tied the game at 1-1 with a terrific reaction to knock in a deflection off the goalkeeper from Rhiannon Dennison's penalty corner flick.
China scored a penalty corner of their own just minutes later to lead 2-1 at half-time.
New Zealand looked a different side after the break and looked dangerous with every possession. Cocks' goal was a stunner, smashing home a deflection from a penalty corner before Grant delivered the game winner with a powerful hit from the top of the circle just minutes later.
Taupo's two test matches are important preparation for the Hawke's Bay Festival of Hockey from April 5-13 which will see the Black Sticks take on Australia, Argentina, Korea, Japan and China.
Black Sticks: Kayla Whitelock (Central), Emily Naylor (Central), Krystal Forgesson (Auckland), Olivia Merry (Canterbury), Petrea Webster (North Harbour), Aniwaka Roberts (Capital), Sally Rutherford (Midlands), Sam Charlton (Midlands), Michaela Curtis (Central), Liz Thompson (Auckland), Sophie Cocks (Canterbury), Rhiannon Dennison (North Harbour), Gemma Flynn (Midlands), Rose Keddell (Midland), Sian Fremaux (Canterbury), Jordan Grant (Canterbury), Bianca Russell (North Harbour), Stacey Michelsen (Northland), Anita Punt (Capital). APN News & Media