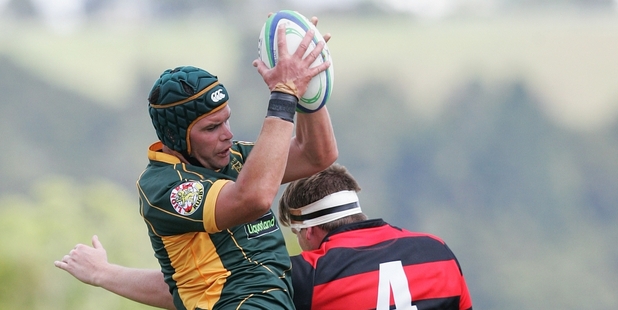 Wellsford hung on to earn bragging rights against their southern neighbours Otamatea after a torrid 17-10 win in the Bayleys Southern Districts Club Rugby competition.
Otamatea had high hopes of repeating their upset first round win over Mid Western but were unable to subdue a smaller Wellsford pack and struggled to get good front foot ball throughout the match at Kaiwaka on Saturday.
Otamatea captain Col Campbell, playing against his former club, said there were still a few things for his team to work on but they had the depth and the commitment in the squad and he looked forward to the return fixture later in the season.
"It was a pretty good local derby with some big hits and it's good to have a couple of good southern teams to give the Whangarei sides a bit of a shake up this year," he said.
Although outplayed up front, the Otamatea backline provided the Kaiwaka crowd with a few highlights in the second spell.
They ended the game on attack with second five Adrian Thomazo stopped just a metre short of scoring a try that could have tied up the match shortly before the whistle.
The first half looked destined to finish scoreless until prop Ross Wright crashed over to make it a 5-0 a couple of minutes before the break.
Wellsford's superior scrum ensured they got a good start to the second spell with Wright again picking the ball up from a ruck near the line to crash over and double the lead. Wright's brother Matt added the conversion from the sideline and a 12-0 lead began to look like a healthy one for the visitors.
Otamatea lock Shane Neville sparked a much-needed revival for the locals with a quick tap on his 10m line, 15 minutes into the spell. The ball went wide and strength of centre Lincoln Phillips drew two defenders and he was able to offload to No10 Dan Hawkins on the double around, who then drew the fullback to put winger Terry Baldwin in with a clear run to the corner.
The try sparked Wellsford into action and Otamatea were soon stunned by a jinking run by Matt Wright, who carved off 35 metres in heavy traffic before taking the tackle 10m from the goal line. The Wellsford loosies quickly recycled the ball and Ross Neal powered through a gap in the backpedalling defence to take the score to 17-5.
Wellsford continued to dominate forward play but Otamatea started to mix up their play and scored another try through their backs. This time Thomazo used his speed to steal along the blind side of an attacking ruck to score in the corner to make it 10-17 with 10 minutes to go.
Wellsford fullback John-Luke Whitehead had a late chance, and Thomazo also went close but in the end it was Wellsford's day.
"We're stoked with the win today, it was hard work out there on a very hard ground and I couldn't have asked any more out of the boys," Ross Wright said.
"We don't have the biggest forward pack but we managed to hold our own out there and really take it to them at times," he added.
Wellsford were missing a few of their starting team from last week so it was a valuable win for them but it was the absence of Northland star Matt Moulds that hurt Otamatea the most.
Moulds is a victim of his own success and has been "wrapped in cotton wool" or kept out of club rugby for now by All Blacks Sevens coach Gordon Tietjens and Otamatea certainly missed his dynamism in the match.