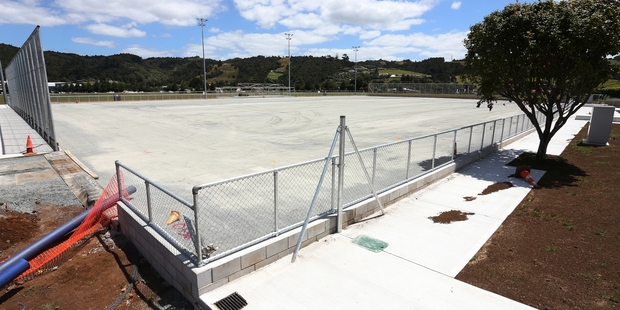 For Hockey Northland chief executive officer Grant McLeod, it has been interesting watching $1.8 million of construction work take place outside his office.
But the name of the game now is patience.
The Currie Electrical Turf on Kensington Park is nearing completion, but there is a slight delay as contractors wait for more light poles to arrive.
McLeod said work had slowed over the Christmas period as the poles waited to be galvanised in Christchurch and shipped north.
"Everything is progressing really well but we're waiting on the light poles," McLeod explained, adding that some poles were already installed but the ones between the turfs needed to be bigger to cover both turfs.
"We're hoping they'll be done by the 24th [of January].
"Basically the problem we've got is a rather large crane needs access [to install the lights] and at the moment it goes on the turf."
McLeod said that while the turf was nearly ready for asphalting it couldn't be completed until the crane had been and gone. He added that the turf's new completion date was the end of February.
Water tanks need to be installed before the turf is usable, but that job can't be completed until the heavy crane has finished working in the area.
"We're pretty pleased with the project, the contractors have been very good. The place is going to be really tidied up.
"We see [the new turf] every day but the response of the members who haven't seen it is 'oh my gosh'."
Hockey Northland is already looking to have a busy calendar as it has secured two national tournaments and put its hand up to host the New Zealand Masters tournament - which required having three turfs.
McLeod said that while the third turf was a massive addition to the sport in Northland, it would put pressure on Hockey Northland.
"Things are looking pretty positive, but we've just got to work out how to use the third turf in terms of trainings and the like.
"It certainly will put pressure on our resources in terms of umpires - we used to have two games on at once which was four umpires and now we need six," he said.
"It's a little bit scary [but] at the same time we're starting to get some real traction, but we're going to have to get more."