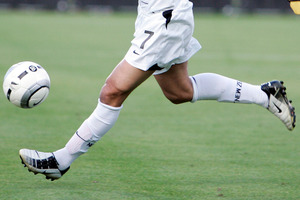 Kerikeri footballers will be re-focusing on next season after coming agonisingly close to winning the Federation One Cup final in Auckland.
For the third time in four years, Kerikeri have finished runners-up in the knockout competition between Northland and Auckland sides after a 5-4 loss to Te Atatu.
Kerikeri coach Jim Brooks said Saturday's loss was hard to take on the day but the side will get over it.
"I guess it's hard not doing it on your third time," Brooks commented. "[But], when we look back on the season it has been quite successful.
"We won the league competition [between local premier sides], and we've threatened it for the last few years so it's good to get that, [but], because we're playing so well we had some high expectations. [It is] very disappointing that we made it to the final, and played three Auckland teams along the way and beat them, and didn't win."
Brooks said that going into the game he had expected the game to be similar to the previous two finals which were decided on penalty shoot outs.
"We were hoping it'd be third time lucky. [But], we had a bad start, and were missing our club captain Kieron Nagle so maybe that unsettled us. We had a heart to heart in the changing rooms [at halftime] and then we started playing some football. But it was just out of our reach."
The Northland club football focus now shifts to the Stafford Choat final this Saturday where Tikipunga will play either Kamo or Onerahi, who play their semi-final tonight in Kamo from 6.45pm due to Kamo's involvement in the Federation One Plate final last Saturday.
Kamo won the plate in a penalty shoot-out after the scores were nil-all at fulltime.