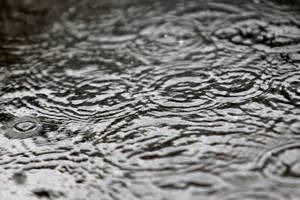 UPDATE: Here's the latest update from the MetService on foul weather for Northland today.
Thunderstorms are expected to accompany an active front moving over Northland this afternoon and evening to reach northern parts of Auckland and Coromandel
Peninsula late tonight.
This is an alert to the potential development of severe thunderstorms in eastern parts of Northland and the far north of Auckland (including Great Barrier
Island) this afternoon and evening. In these areas, storms may produce localised downpours with rain rates of 25-35mm/hr.
Rainfall of this intensity can cause flash flooding, especially about low-lying areas such as streams, rivers or narrow valleys, and may also lead to slips.
Driving conditions will also be hazardous with surface flooding and poor visibility in heavy rain.
Additionally, there is a chance of one or two small tornadoes, especially about and near eastern coasts.
Conditions should ease with the passage of the front, however an active trough moves over Northland tonight with further heavy showers and a few thunderstorms.
Note: A Severe Thunderstorm Watch means conditions are favourable for severe thunderstorms in and close to the watch area. People in these areas should be on the lookout for threatening weather conditions and listen for possible Severe Thunderstorm Warnings.
For the latest forecasts see www.metservice.com.
xxxxxxxxxx
Get your raincoat and gumboots out - you'll need them this afternoon.
Metservice says rain develops once again for Northland and Auckland today, with heavy thundery falls from afternoon.
A watch for localised downpours has been issued for eastern Northland, north Auckland and Great Barrier Island.
"It looks like the same areas which have copped the heaviest falls over the last few weeks are once again potentially in the firing line for heavy rain" MetService forecaster Georgina Griffiths said.
"The eastern parts of Northland are on Watch for localised downpours 25-35mm per hour this afternoon and evening, as another vigorous front moves onto Northland."
The risk moves into Great Barrier Island and the far north of Auckland this evening, as the front moves south.
Additionally, there is a chance of one or two small tornadoes in the Watch area, especially about and near eastern coasts.
"For Auckland, the main risk area is about the eastern coast, north of about Orewa," Griffiths said.
MetService forecasters will continue to monitor the radar today, and will continue to advise people in the region.