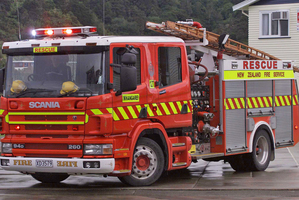 The Whangarei sister-in-law of a paraplegic man who died in a house fire in Wanaka described him as a "man of the mountain" who lived life to the fullest.
Former Northlander Bruce James Cochran, 53, who has family in Whangarei, was sleeping in a flat in Lagoon Ave, Albert Town, when a fire ripped through it about 4.30am on Thursday.
Two fire trucks from Wanaka attended the callout and firefighters found the flat alight on arrival.
His funeral is in Wanaka tomorrow. Initial enquiries into the blaze had been completed and it was not thought to be suspicious.
The matter has been referred to the coroner.
Sister-in-law Cindy Cochran said he had had a huge impact on the community in Wanaka where he worked in the ticketing office at ski company Cardrona.
"He was a man of the mountain ... an inspiration to us all who overcame the obstacles that helped make him the character we know he was," she said.
His mother Fay, younger brother Phil and other family members live in Whangarei.
Mr Cochran was born in the highlands of Papua New Guinea, the eldest son of missionary parents, Fay and James Cochran.
His family eventually settled in Whangarei where Mr Cochran ran the award-winning Bruce James Menswear in Kensington.
At the age of 18, while riding his motorcycle, he hit a train on a level crossing that damaged his spine and left him a paraplegic.
Phil Cochran said it was "a miracle" his brother survived and gradually regained some movement in his left arm.
He closed the clothing shop, and after holidaying with his sister in Tahiti in the early 1990s, he set out on a hitchhiking trip to the South Island with an old school mate.
That brought him to Wanaka and introduced him to the mountains, the lake and its people which Phil Cochran said he loved to be around.
"I think he looked at life differently, in a much more simple way," Phil Cochran said.
"He learned to enjoy the beauty of creation in the Southern Alps more than worrying about whether he was wearing the right-coloured shirt."
"We ended up with quite a different brother and a much happier brother," he said.
- Additional reporting, Otago Daily Times