50mm an hour falls with more to come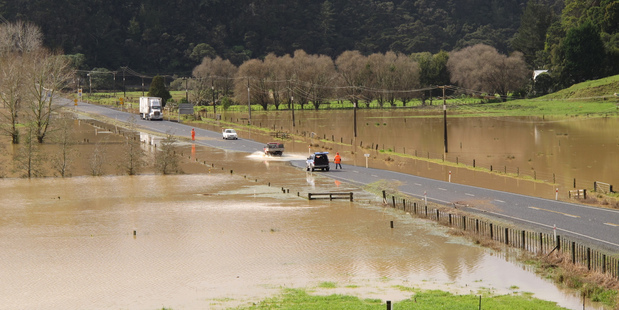 A one-in-50-year downpour has brought more slips and road closures in the Far North, which is already facing a $30 million roading repair bill from last month's storm.
While the rain that hit the east coast between Doubtless Bay and Whangarei's eastern hills was short-lived, it was exceptionally intense.
At its peak between 7 and 8pm the rain fell at 52mm/hr at Kaeo and 49mm/hr at Kerikeri. Usually anything above 10mm/hr is regarded as heavy rain.
The deluge triggered slips, flooded highways and sparked a flurry of emergency calls. The Mangonui Fire Brigade was particularly busy with eight call-outs between 5.45pm and 9pm.
Far North Civil Defence coordinator Bill Hutchinson said the saving grace was that the downpour coincided with low tide, preventing more serious problems at Kaeo and Kawakawa's Three Bridges. Catchments were so overloaded and the water table so high that water was pooling along SH10 in places it had never been seen before.
Northland Regional Council hydrologist Dale Hansen said the 50mm/hr rain intensity in a narrow band down the east coast was "quite exceptional". The total for Kerikeri was 141.5mm, most of which fell in a three-hour period. Kaeo had 126mm, Whangarei's eastern hills 111mm and Whangarei city 46mm.
Rainfall of 50mm in an hour was regarded as a roughly one-in-50-year event.
A number of roads were reduced to one lane yesterday because of slips. Pupuke-Mangapa Rd near Whangaroa and Snelgar Rd near Kaitaia were closed entirely. Snelgar Rd was cleared yesterday and Pupuke-Mangapa Rd is due to reopen around noon today.
At least one farmer lost stock in the Pupuke Valley.
Mangonui fire chief Peter Sainsbury said Tuesday night's call-outs included pulling cars from floodwaters on SH10, diverting water from the Cable Bay store and clearing downed trees.
Kaeo fire chief Lindsay Murray said his brigade was called out to help a motorist stuck in floodwaters at Otangaroa Rd and to flooding at Mangaiti Marae. However, the water was so high firefighters were unable to reach the marae.
Kaeo Farm and Fuel owner John Owens said there had been "no dramas at all" in town. In other areas, however, including between the fire station and the old Sanfords building, flooding was worse than in July's storm.
The regional council's early warning system, which sends out an automatic email when the river reaches a certain level, worked well.
A similar warning by text message could be not sent because Vodafone's transmitter stopped working at 4pm on Tuesday.
Rain continued yesterday with localised downpours and a thunderstorm dropping more heavy rain near Kaitaia. The good news, according to MetService forecaster Georgina Griffiths, is that this morning's showers should retreat to the west coast by lunchtime.
Friday and the weekend would be cool but fine and dry, she said. July's storm triggered 293 slips and caused $30m in road damage across the Far North. The repair bill for Whangarei is about $2m.