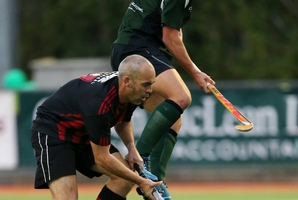 Once Maungakaramea found their mojo they were unstoppable in the Northland Men's Premier Grade Hockey final.
Dempster and Hill Electrical Maungakaramea completed a successful season with a fantastic second half of hockey, completely overpowering Currie Electrical Springfield 4-1, to capture the 2014 title on Saturday evening.
It was a classic game of two halves with Springfield's Hadley Greenhaigh scoring an excellent reverse stick strike early in the first spell. The goal gave the underdogs the confidence they needed to outplay Maungakaramea for much of the spell and they deservedly led 1-0 at the break. Co-coach John Child laid down the law in the Maungakaramea huddle at the break and a touch of luck after five minutes got them off to a perfect start.
Promising youngster James Mortimer took on the defence on the right of the circle and his pass into the goalmouth found Springfield defender Straughan McLeod's stick and rolled into his goal.
The cruel blow deflated Springfield and Maungakaramea pounced. A minute later it was 2-1, with veteran Paul Snelling scoring a peach of a goal with a reverse stick shot. Maungakaramea were firmly in control and it was no surprise when John Wallace made it 3-1 with a classy strike from the edge of the circle in the 13th minute of the spell.
Springfield tried their best and they managed to forge a few scoring chances, one of them by Bevan Gibbs drawing a spectacular save from keeper Bradley Pitman. Finally, eight minutes from time, Cam Hellier was the benefactor of a mesmerising James Houston run and completed the win by scoring from close range.
Child said they felt they were playing the right kind of game at the break but just not well enough.
"There was no reason why we shouldn't have been dominating in the first half, so we changed up a couple of gears in the second half and came good," Child said.
Child said the team had played pretty well all season but had been pushed hard by a resurgent Springfield, in the recent playoffs and in the final. He applauded Steve Nink's performance in midfield and Sam Webb's contribution but reserved his highest praise for Mortimer.
"James Mortimer was outstanding tonight. He's still 15, I think, and he's been our stand out striker all year, but it was a team performance, everyone played well," he said.