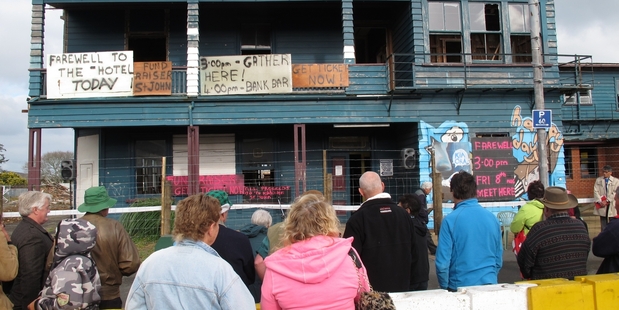 Memories flowed like cold beer in the old public bar during a formal farewell for the Kaikohe Hotel.
More than 70 people, among them many a former patron, gathered on Broadway on Friday afternoon to remember "the old girl" in her heyday.
Only the oldest section of the 120-year-old hotel is still standing and that, too, is slowly being dismantled.
Speakers included district councillor Sally Macauley and husband Peter Macauley, a lawyer and St John area committee chair, who in 1970 spent their first night in Northland at the bustling Kaikohe Hotel. That first impression of the town convinced them to stay.
Mrs Macauley recounted some of the pub's milestones, such as the lunch visit by Queen Elizabeth in 1953 and the end of 6 o'clock closing in 1967 - "That's when the hotel really started to roar" - to its decline in the 1990s and 2000s.
She also spoke of her regret that the hotel had not been granted historic protection when it turned 100.
Mr Macauley described the pub as his turangawaewae during his first years in town. He recalled the "absolute legends" who could be found propping up the bar most nights, the founding of the Kaikohe Lions over a few pints in 1965 and the infamous 4am club, so named because its members could not leave before 4am.
"There's a lot of history in this place. It's a crying shame to see it reduced to a state where it will no longer grace the main street," he said.
Kaumatua Te Wati Erueti remembered his time as a barman under long-time hotel manager Colin McKenzie and working his way up to a job behind the private bar.
After a blessing by Ratana minister William Smith and Anglican reverend Kuini Matene, the crowd walked to Bank Bar for a final drink in honour of their old watering hole and a fundraising auction of hotel memorabilia. All proceeds from the event will go to Kaikohe St John. About 150 people were expected.
The original plan was to have a final drink in the old bar but that was vetoed by Te Runanga-a-nui o Ngapuhi, which bought the derelict hotel for just over $280,000 and has a firm no-alcohol policy.
Once the hotel has been demolished the site will be grassed over until the runanga comes up with a plan for the prime Broadway site.