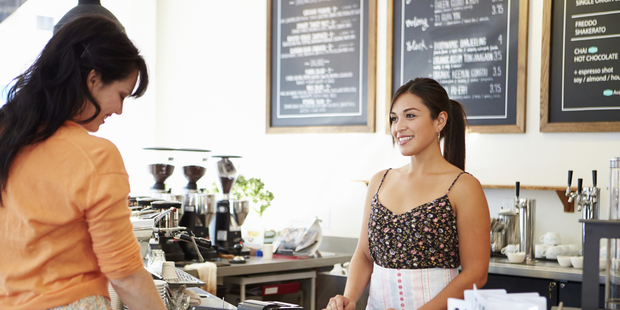 Taking up an after-school job sets teenagers up with good work habits, says the Northland Chamber of Commerce.
A study has found schoolchildren who take on a part-time job do not suffer any long-term disadvantage to their well-being or education.
The University of Otago study tracked 1000 people born in 1972-73, and found many of the participants did part-time work while they were school students.
New Zealand is one of the few countries that has not ratified the United Nations' recommendations to prevent children from having a part-time job before the legal school leaving age of 16 years.
Chamber chief executive Tony Collins said some grocery store chains employed local high school students.
"The biggest challenge for young people getting jobs when they leave school is getting work experience, and it's never too soon to start getting that experience," he said.
"It's certainly not going to harm them because when it comes to looking for a job it's going to tell a future employer ... they have worked in a work environment before, possibly they have got a reference from that employer, and also they're keen and committed to the workforce."
Secondary Principals' Association president Tom Parsons said a part-time job was not always a positive move for a student. "Many of the kids that do the part-time work, do the part-time work not to put butter on the bread, but to put bread in the house."
Secondary school students were not allowed to do paid work during school hours, he said.
"Principals like myself have enforced this before where kids have been caught - sometimes at the parents' behest - trying to leave school early [for work] or come late because they've slept in because they've been working until 10 or 11 o clock at night. But it's pretty rare."
The Dunedin study, which appears in the Journal of Adolescent Health, tracked the participants up to 32.
Out of the study's participants, just over 5 per cent did part-time work at 11, while 26 per cent and 42 per cent worked part time at 13 and 15, respectively.
The study's lead author, Dr Ella Iosua, said participants who had part-time jobs between ages 11 and 15 years were not more likely to suffer negative outcomes in psychological well-being or academic qualifications by 32.
Part-time work did not make them more likely to smoke, drink alcohol excessively, or use cannabis regularly in adulthood.