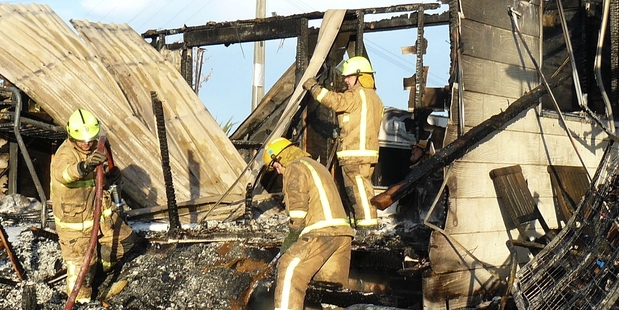 The life-saving value of smoke alarms has been illustrated again after a man and his 12-year-old son escaped as fire engulfed their rural Kaiwaka home.
The blaze, which destroyed the home, has also sparked a warning for people to keep an eye on older multi-power outlets.
The pair can be grateful for working batteries in smoke alarms after the blaze on Tuesday morning, Fire Service Whangarei-Kaipara area manager Mike Lister said.
Mr Lister said the pair had been sleeping in the lounge, as they had the previous few nights while watching late-night Commonwealth Games coverage.
Just after 4.30am on Tuesday, a smoke alarm woke them.
They found the house filled with smoke and a glow coming from the wall area by the entertainment unit.
"As they left, the three-bedroom house erupted into flames.
"The occupant told a specialist fire investigator he could not believe how quickly the fire took hold of the house. Only two walls remained standing at the house," Mr Lister said.
Other family members were away at the time.
Firefighters from Kaiwaka, Wellsford, and Mangawhai took around 15 minutes to reach the Oruawharo Rd house to find it ablaze.
Their efforts were hampered by a lack of dedicated firefighting water until a dam several kilometres away was sourced, he said.
"It appears the most likely cause was an electrical event around the power outlet and multi-box which powered the flat screen TV, an X-box, Sky decoder, DVD player, and a computer," Mr Lister said.
This has prompted another warning from the Fire Service about older multi-power outlets.
"Nationally, these have been attributed as a fire cause over time," he said.
"If the power plugs appear loose within the unit, there is potential for a fault as power supply has to arc to reach the pins, generating a heat source.
"People need to dust and clean them off regularly. Unfortunately, they are out of sight out of mind behind wall units and cabinets. A build-up of dust does not allow for heat dispersal from the unit. Cables piled on top are also a problem."