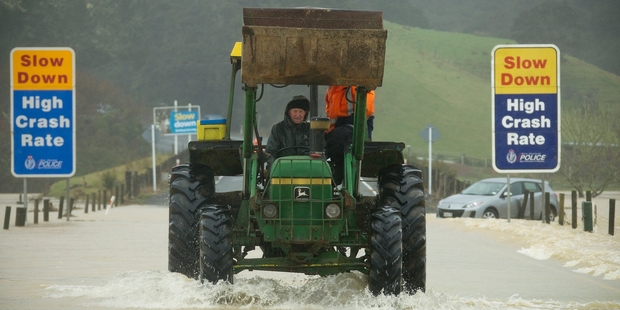 The storm that lashed Northland this month could cost tens of millions in infrastructure damage and private insurance payouts.
It could also result in local body leaders going to Wellington asking for more money to fix the aftermath.
The storm from July 8-11 and heavy rain the following week caused major problems in Northland.
Towns cut off
Towns were cut off, more than 26,000 properties lost power, trees were bowled over and two massive landslips closed State Highway 1 near Kawakawa and south of Whangarei at the area known as the Brynderwyns.
The Insurance Council of New Zealand said total cost claims from the storm for Northland had yet to be finalised, but the cost of insured damage from the June 8-11 storm in the Northland, Auckland, and East Coast regions was $30million.
"The cost of insured damage from severe weather events in 2014 continues to mount at $107million to date," says ICNZ chief executive Tim Grafton.
"At the same point last year, insurers had paid out $103million for insured damage from severe weather events and 2013 was the second costliest year for weather-related damage since 1968 with over $174million of insured costs.
"We're awaiting provisional figures for ... the July 8-11 storm that caused severe flooding in Northland but 2014 looks likely to be another costly year for New Zealand."

Hundreds of claims lodged
Hundreds of private and business insurance claims are likely to lodged from Northland for the damage this month. The Far North was particularly badly hit and Far North District Council spokesman Richard Edmondson said the costs to the district had yet to be fully collated.
However, it was likely to run into the millions.
An item would be on the council agenda for its August 7 meeting with a recommendation that the chief executive officer provide the council with a full indication of the storm's impact on the council's infrastructure.
The council was then likely to approach central Government for more funding to help fix the infrastructure issues.
Whangarei District Council group manager infrastructure and services Simon Weston said that council was looking at about $3million worth of damage.
"But we are still investigating the exact costs. These costs will be covered through existing budgets across a range of assets - roading, parks, water, coastal reserves etc," Mr Weston said. "NZTA provide the usual subsidy for roading operations. At this stage it is unlikely that we will make an insurance claim or seek Government assistance."
The storm had caused about $2.4million worth of damage to the region's power supplies.
Watch a helicopter with a Northpower repairman repair lines in Opouteke below.
Mobile and app users click here.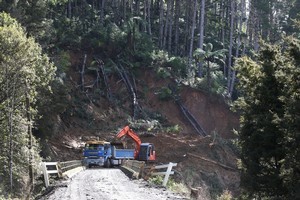 Top Energy, which supplies power to the Far North, has estimated it will cost about $1.5million to repair the hundreds of faults on its network - well ahead of the annual budget of $1.3million for fault repairs. Northpower said repairs to the 800-900 faults on its network in Whangarei and Dargaville would cost about $900,000 from an annual repair budget of $1.46million.
At its height the storm cut power to about 17,000 Far North properties and more than 10,000 in Whangarei and Dargaville.
NZTA, which is responsible for state highways said it was far too early to say how much a massive slip that had shut SH1 south of Kawakawa and one on the Brynderwyns would cost to repair.