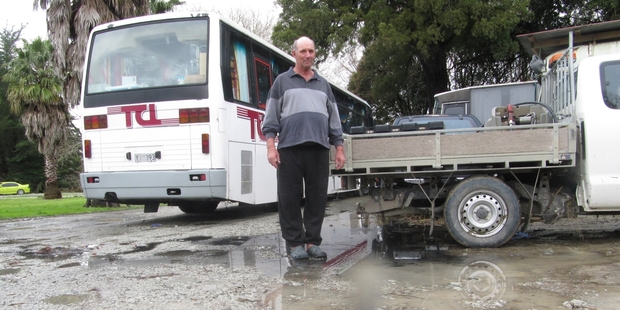 Two Maungaturoto families lost everything when their rented homes were flooded in the second storm to hit an already sodden Northland.
The families, who did not wish to appear in the Northern Advocate, were evacuated from their downstairs Hurndall St East flats on Saturday night, during the most rapid flooding landlord Neville Westlake has seen in the 14 years he's owned the property.
"The water was up quite a bit in one of the nearby rivers and I could see we were possibly in trouble so I said 'all people and pets upstairs'.
"It was good timing, after that [about 9.30pm] the water came right through the place," he said. "It came up so fast."
Three downstairs flats and seven vehicles on the property - including tenants' cars and two of Mr Westlake's buses for his company Wainui Shuttles - were damaged by the floodwaters. The eight tenants, including children as young as 3, were evacuated and are currently bunking with Mr Westlake in the upstairs flat.
"The water that went through the flats was around eight inches deep, but the water outside was actual torrents," he said.
The clean-up started early yesterday, with carpets and lino being lifted and dryers placed in the rooms.
While Mr Westlake has insurance, his tenants do not - so he's appealing for donations of beds, mattresses, bedding and blankets. Anyone with items to donate should phone 431-8167.
Northland Regional Council rainfall figures for the 24 hours to 6am yesterday show more than 100mm of rain fell in some locations in Northland.
Maungaturoto had received 70mm and Dargaville 59.6mm over the 24 hours. A peak rainfall intensity of 33mm/hour was recorded at the Brynderwyn rain gauge in the early hours of yesterday.
In the Far North, Opouteke recorded the highest rainfall, with 63.5mm over the 24 hours.
Puhipuhi (north of Whangarei) received 69mm - enough to create a 1.5m rise in the inflows into Hikurangi Swamp, but stopbanks were not overflowing. In Whangarei, 106mm had been recorded in Maunu and a similar amount (105.2mm) fell at the regional council's Water St offices.
Meanwhile, a section of SH1 on the Brynderwyn Hill in Northland will be closed for several days because of an underslip, according to the NZ Transport Agency. A 10m-long section of hill collapsed under the highway yesterday afternoon.
"Unlike the underslip on SH1 at Kawakawa last week, there is no room on the Brynderwyns to build a detour route around the collapsed section of road. We will have to repair the underslip itself before we can re-open the Brynderwyns," said NZTA regional journey manager Jacqui Hori-Hoult.
Ms Hori-Hoult said yesterday that the slip was still moving and a detailed assessment of ground stability had to be completed before repair work could begin.
On Saturday afternoon a ute also flipped in an accident on SH1 near Oakleigh. Details are being confirmed.
Northlanders will get a reprieve - only light showers are expected until Friday.
A southwest flow will bring occasional showers and a temperature drop from a high of 13C today to a high of 11 degrees tomorrow, MetService meteorologist David Miller said.