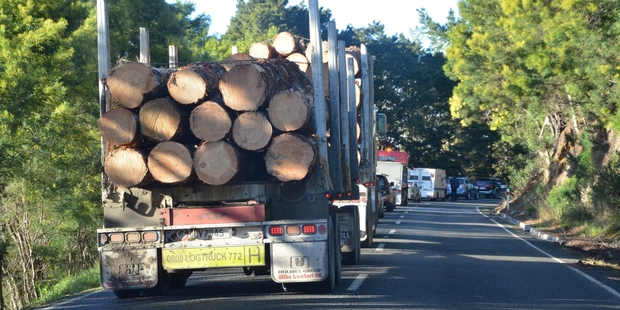 The aftermath of last week's storm that cut State Highway 1 south of Kawakawa shows why the main alternative route north - Mangakahia Rd - should become a state highway, Northland Regional Transport Committee chairman John Bain says.
The storm caused a huge slip near Maromaku that wiped out a large part of SH1, leaving two options - SH12 through Waipoua Forest, adding about two hours to the journey, or Mangakahia Rd, which can add up to an hour.
But higher traffic volumes on Mangakahia Rd, which runs between SH12 at Kaikohe and SH14 at Maungatapere, had caused the surface conditions to deteriorate. Yesterday the road was closed for about 30 minutes near its intersection with Ngapipito Rd because the surface was cracking from an associated slip.
Mr Bain said while the committee had not had a chance to discuss the widespread roading damage caused by the storm or the implications for Mangakahia Rd, his view was that the road would need to be made a state highway - and be the responsibility of central government rather than the Whangarei and Far North District councils - to protect the region's growing economy.
He said that during the past decade or so about $60million had been spent on upgrading Mangakahia Rd to the standard it was today, but far more would be needed to get it up to state highway standard. Compounding the issue was that it cost more to construct roads in Northland because of its difficult geology.
"If you look at the differences between Northland and, say, Canterbury, for the cost of a kilometre of roading there you can only do about 450 metres of roading in Northland, and that's because of our geology," Mr Bain said.
"The type of soil is called Onerahi chaos [soggy clay], where it's not as stable as other parts of the country, apart from the likes of Thames/Coromandel, and that geology makes it more expensive to build a road here. You have got to do a lot more preparation."
He said with Northland "exporting" $1.8billion worth of goods annually by road, it was vital that a second "main artery" was formed and Mangakahia Rd was the logical choice.
"We have got a growing economy and if we want to ensure that keeps growing we need to have another highway in place," he said.
The two councils in charge of the road would not be able to afford to upgrade the road to state highway standards then maintain it. It would be up to the transport committee to apply to the Government to turn the road into a state highway.
Mangakahia Rd re-opened to heavy traffic yesterday but that status was being reviewed daily.
Mr Bain had praise for contractor Fulton Hogan, which had been working 24/7 to get a temporary bypass around the slip south of Kawakawa. Fulton Hogan regional manager Keith Cocking said the bypass could open late today but almost certainly tomorrow morning.