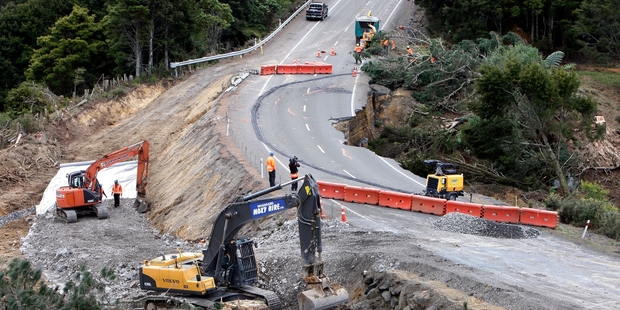 A temporary bypass around a major slip which has closed State Highway 1 could open on Saturday thanks to a construction team working around the clock.
Roading officials confirmed yesterday the section of SH1 would be a sealed single-lane controlled by traffic lights, and open to all traffic.
Northland Civil Defence Emergency Management Group spokesman Graeme MacDonald said roading authorities had been working 24/7 to create a 100-m long bypass around the slip south of Kawakawa, on a crucial part of the region's roading network.
While food and other supplies continued to be delivered to Northland via a series of long diversions, the re-opening of the state highway would be important from a practical and morale viewpoint, Mr MacDonald said.
"I suspect many Northlanders - as well as being happy to see reduced travel costs and times and a more direct route to and from the Far North - will also view this reopening in particular as a very visible indication that tangible progress is being made on the storm recovery front."
Mr MacDonald said despite the diversions that were in place, the Far North in particular was keen for the rest of New Zealand to know it was still "open for business", especially with a few days of the school holidays left.
The NZ Transport Agency said damage from the recent storm is so extensive it may take some time to fully restore the region's roading network.
Transport Agency's Regional Journey Manager Jacqui Hori-Hoult said they had to be absolutely sure the ground was stable enough to safely open the bypass around the washout.
Until the bypass is opened, the main alternative route for all vehicles between the Far North and destinations further south remains SH12 through Dargaville and Kaikohe.
The detour can be accessed from the SH1/SH12 intersection at the Brynderwyn Hills, or from SH14 between Whangarei and Dargaville, but could add up to two hours to journey times.
Work to widen a 70m-long section of the highway washed away by flood water on SH12 at Kaihu, 30km north of Dargaville, was scheduled to be completed yesterday.
Ms Hori-Hoult urged drivers using Ruapekapeka Rd as a detour that extreme care was needed as it was unsealed and winding.
The road was only opened to light vehicles, and there was no access for heavy vehicles.
Mangakahia Rd remained closed to heavy vehicles north of Twin Bridges and south of Whangarei, crews are busy repairing potholes and clearing slips and drains.
Transport Minister Gerry Brownlee confirmed there was an emergency roading fund and there would be central government help in picking up the bill for the repair of all storm-damaged roads in Northland.
"As soon as we know exactly what the extent of the work required is, then we'll be able to trigger some of that funding through NZTA. It will cover all roads."