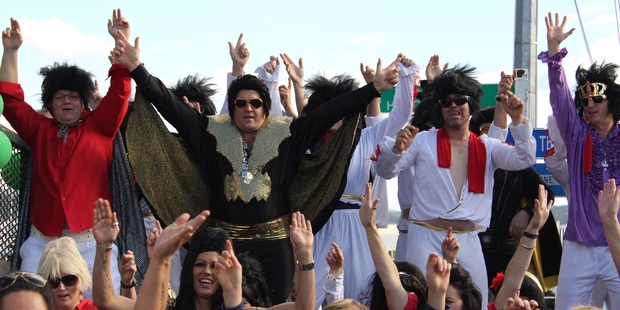 Russell's Birdman Festival went ahead over the weekend despite one of the worst storms in a decade forcing cancellation of the Birdman jump.
A decision to compress the festival into two days, with all Friday's events held on Saturday afternoon, paid off when Saturday dawned clear and sunny.
Instead of the jump, in which would-be Birdmen launch themselves from the end of Russell wharf, contestants paraded through town and performed on a waterfront stage.
This year's entries varied from a trio of marathon monks to a Roadrunner and "Clayote" by Parua Bay's Clay Danvers. A mass Elvis entry by the Duke of Marlborough Hotel, which included Northland MP Mike Sabin as an uncannily convincing Elvis, won the prize for most entertaining performance. The supreme award went to a banana boat by Russell women Pania Sigley and Maryanne Hooson, who have entered every Birdman since the event started eight years ago.
Birdman Trust chairwoman Bridget Hughes said the jump was cancelled due to "zero visibility" underwater caused by the storm. If jumpers were injured the safety divers would have no chance of finding them, she said. Some also had concerns about contamination from flooded sewage plants, but Mrs Hughes said that was not one of the reasons for the cancellation.
Given the weather of the preceding week and the closed roads, the turnout of up to 2000 people greatly exceeded expectations. People had enjoyed themselves and welcomed the respite from the cabin fever of the past week, she said. New events included a kids' dress-up competition which attracted more than 30 entries.
The drag race was won by Aucklander Paul McBride as Kim Kardashian. Judge Mike Sabin said picking a winner was difficult with "more cross-dressing and questionable sexuality than in Parliament".
Among the out-of-towners who managed to reach Russell despite the flooding was Nolan Masterson of Ohio, USA, currently living in Auckland. He was determined to take part after seeing the event advertised last year. He was disappointed to miss the Birdman jump but had greatly enjoyed the festival, including the chance to dress up as a bearded "Svetlana" in the drag race. Ms Masterson said he had been to festivals in the US, "but nothing this bizarre".
Last year a record 5000 people attended the festival.
Birdman results
Most entertaining: Duke of Marlborough Elvises, Russell; clever craft: Excide Batteries (Pat Cassidy), Kaitaia; flax and fibre: Flaxman (Tim Grant), Russell; Supreme Birdman: banana boat (Pania Sigley and Maryanne Hooson), Russell. With no trophy for longest flight awarded, next year's prize money will double to $2000.
Drag race
Highly commended: "Meryl Streep" and "David Cunliffe"; working the crowd: "Katy Perry" (Eric Haagh, Auckland); firmest butt: "Summer Barbie" (Riki Kinnaird, Russell); style and poise: "Bullimia" (Mark Osborne, Taipa); winner: "Kim Kardashian" (Paul McBride, Auckland).