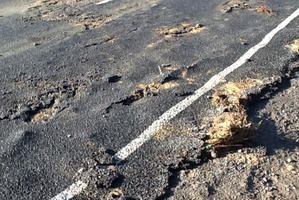 A major by-pass route for traffic to and from the Far North has been re-opened.
Mangakahia Road, which links Kaikohe and Whangarei, is now open to all traffic including heavy traffic.
However, temporary speed restrictions may apply and all motorists using the by-pass are urged to proceed with extreme caution because of the slippery surface.
This will mean heavy vehicles carrying essential supplies, including fresh food and fuel, will be able to start making deliveries to retail outlets running low on stocks as a result of earlier road access problems.
This re-opening means there are now two alternate traffic routes in and out of the Far North - the Mangakahia Road route and the Ruapekapeka Road route between Kawakawa and Towai.
However, because of the condition of the road, the Ruapekapeka Road route is open only to cars and light four-wheel-drive vehicles.
The two by-pass routes are critical to access to the Far North as a result of a major under-slip on State Highway 1 just south of the Kawakawa township. It could still be several days before the State Highway link is restored.