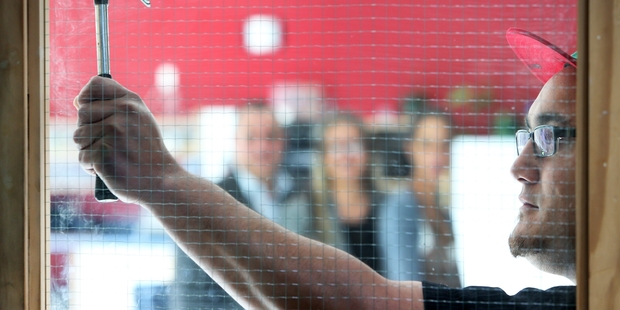 Quentin Whareumu has had only "odd jobs" since leaving high school 10 years ago.
So the 26-year-old is delighted the Te Matarau Education Trust has teamed up with NorthTec to provide trades training for Maori and Pasifika learners.
Mr Whareumu has enrolled to learn carpentry as he would eventually like to build a home at Whakapara where he now lives.
Fees-free trades training for Mori and Pasifika 18-35 year olds in courses such as forestry, hospitality, construction, painting and, in the future, automotive engineering, will start in the Far North, Mid North, Whangarei, Dargaville and Kaiwaka on July 21.
The trust is a new hapu-iwi collective of Te Uri o Hau, Ngatiwai, Ngati Hau, Ngati Hine, Ngati Rangi and Te Aupouri.
Trust co-chairman Pita Tipene, of Ngati Hine, said the best thing about the collective was it involved Northland iwi and hapu working together because they recognised they had to join hands to encourage their young people to get into meaningful employment.
His co-chairman and Ngatiwai Trust Board general manager, Philip Alexander-Crawford, said about 70 people were expected to begin the training courses in Northland this year and it was hoped the Government would triple Northland numbers next year, when 3000 places were expected to be funded nationally.
Ministry of Social Development figures show 48,756 working age people were receiving unemployment benefits nationally in the year to March 2013, 18,860 of them Maori and 4343 Pacific Islanders.
Tertiary Education, Skills and Employment Minister Steven Joyce and his Associate Minister, Tariana Turia, last month announced Te Matarau Education Trust as one of the latest five providers selected for the Maori and Pasifika trades training initiative. "The Government is investing $43 million in the training initiative to help young people develop skills in trades needed right now and in the longer term," Mr Joyce said.
"New Zealand's and Northland's economy is growing strongly and there are big opportunities over the next few years - particularly with the need for housing and infrastructure in Auckland and the Christchurch rebuild - for anyone interested in trades careers to train and take up apprenticeships."