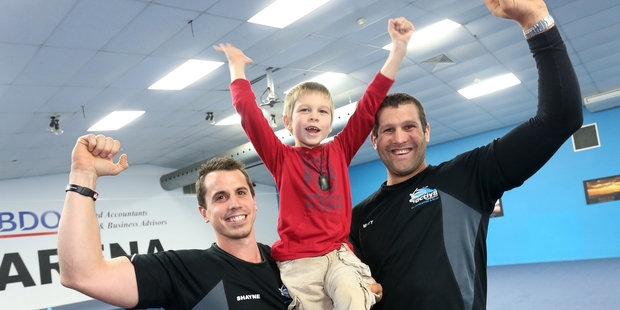 Reuben Leslie isn't one to sit back and let others do all the work so he'll probably try to pull his weight in a world record indoor rowing attempt in Whangarei.
The 7-year-old with cerebral palsy will have trouble getting 18 members of a local gym out of the rowing machines, though, as they try to set two world records.
Tomorrow from 7am-2pm Activ8 Northland will chase the record for the fastest 100,000m, and raising money for Reuben at the same time.
He's a plucky, outdoorsy kind of kid but his family needs a hand getting together the wherewithal for some life-improving equipment for him.
The Activ8 trainers and clients made the rowing records a goal at the beginning of the year. Two teams - one with under-30-year-olds, the other over-30s - have to row 500m each in less than 1.50min, then keep repeating it for six hours, to achieve the world record.
The other goal is for every kilometre rowed they get a $25 donation, with a hope of raising more than $2500 for Reuben.
The rowing starts at 7am at the Porowini Ave gym and should finish by 1pm.
Anyone who wants to is welcome to go along to watch, donate or participate in a range of fun, family and fitness focused activities throughout the day.
The programme
9am - Boxiv8 Session for anyone who wants to increase cardio and have fun
10am - Strongman (or girl) session, testing strength and stamina in the weights department, with tyres, ropes, powerbags and sleds included (gold coin donation to take part);
12pm - Bootcamp session, for all ages, stage and fitness levels, kids and parents welcome;
1pm - Table tennis tournament starts, which will test speed, agility and accuracy, adults (15yrs+) and juniors (14 and under).
There will also be a bouncy castle, sausage sizzle, entertainment and more on offer.