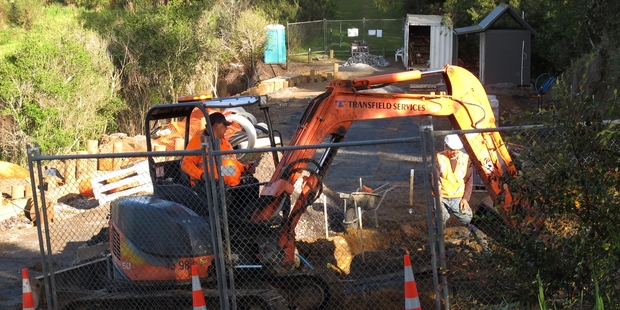 The transformation of one of Northland's most historic sites from a busy thoroughfare to a quiet, pedestrian-friendly precinct is finally nearing completion.
A one-way bridge which used to carry many vehicles past Kerikeri's Stone Store and Kemp House was removed in 2008, but the project's finishing touches have been repeatedly delayed.
Fans of the Stone Store area will be pleased that work is in progress.
The asphalt approach to the long-absent bridge has gone, and is now sown with grass, while the gravel car park below St James Church is being expanded and sealed.
A small toilet block is being built by the car park.
An old bridge abutment on the south side of the river has been removed to improve river flow. Still to come are a new deck on the historic wharf and new interpretation signs.
The work is due to be completed by Labour Weekend.
The Pear Tree Restaurant will remain accessible for vehicles but other visitors to the Basin should park on the north side of the river, accessed via Landing Rd.
The project is a joint initiative by the Department of Conservation, Heritage New Zealand, the Far North District Council, Ngati Rehia and tourism interests.
Traffic which once rumbled past the Stone Store now uses the $14 million Kerikeri Heritage Bypass.
The old Stone Store bridge was blamed for exacerbating the floods that regularly threatened Kemp House.