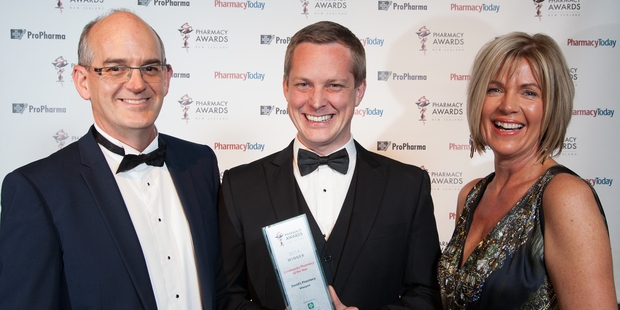 When it comes to keeping his customers happy, David Postlewaight has ticked all the boxes and scooped a Pharmacy Guild award for the second year running.
David's Pharmacy in Whangarei was announced the Community Pharmacy of the Year at the Pharmacy Guild of New Zealand and PSL Community Pharmacy of the Year Awards.
Mr Postlewaight, a former Kamo High School pupil, says he tries to treat each customer like a member of family.
David's Pharmacy, which opened in 2011, focuses on traditional community values and treating patients as people as they come in the door.
The pharmacy also includes a drive-through for customers who struggle to get out of the car, such as people with disabilities and mothers with young children.
Patients who can't get to the pharmacy can get their medicines delivered free.
Mr Postlewaight also offers a special service to patients at rest homes, giving them a consultation about medicines.
"I can look at what medicines they have and take away what they don't need," he said.
The Kamo pharmacy has a compression garment service and also supports Maori healthcare provider Ki a Ora Ngatiwai, including helping it set up a rheumatic fever screening and treatment programme at local schools.
Mr Postlewaight picked up the award at the Pharmacy Today/ProPharma Pharmacy Awards on June 7 at Auckland's Pullman Hotel.
The results were based on a Nielsen customer survey of more than 6600 customers at 132 pharmacies nationwide.
The survey asked customers about their level of satisfaction with the pharmacy, the knowledge and helpfulness of the pharmacist, and the reason they came to the pharmacy.