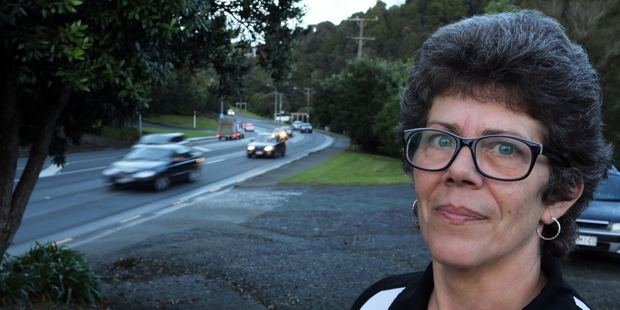 A Northland woman knows exactly where a static speed camera should be placed after years of living next to a busy road which has been the scene of numerous fatal crashes.
Barbara Good Hammond, a resident on Western Hills Drive for nearly 18 years, made the plea as police began their consultation phase with residents in potential speed camera locations across Northland.
Nationally, police have decided on the first 12 sites earmarked for new fixed speed cameras. There are six locations in Auckland and six in Wellington which will receive the new digital cameras first, with a total of 56 cameras to be installed by the end of next year at a cost of $10 million.
Northland police can't reveal exactly where or when the cameras will be rolled out but they were likely to go on roads with a history of fatal or serious crashes.
The most recent fatal on Western Hills Drive was in October last year when a 28-year-old man, driving north, died after crashing into a four-wheel drive vehicle pulling out of a driveway, opposite Kensington Ave.
Mrs Good Hammond, who lives less than 100m from the scene, said cars came up the hill at ridiculous speeds, well over the 50km posted speed limit.
"We haven't been spoken to yet but this would be a great location to put a camera. We hear screeching tyres all the time and cars just gunning up and down the hill," she said.
She couldn't understand why there was a short 70km/h speed zone in between 50km/h speed zones on Western Hills Dr.
"It's probably a distance of less than a kilometre and there aren't too many that drop back to 50km/h to come up the hill on the passing lane."
Road policing manager Inspector Murray Hodson said Northland police had started the consultation phase with residents living near potential sites across the region this week.
It involved telling residents about the static camera project and hearing their concerns.
"This is about reducing victims on our roads. It's in everyone's interests to get the cameras set up as soon as possible," Mr Hodson said.
The consultation phase was expected to be complete by July 11, followed by the implementation phase.
Roadsafe Northland's Whangarei co-ordinator Gillian Archer said fixed cameras were part of creating a safer transport system because speed directly affected both crash probability and crash severity in the region.
In some high-risk situations where other road safety measures could not be applied, speed cameras would be the most effective crash deterrent, she said.