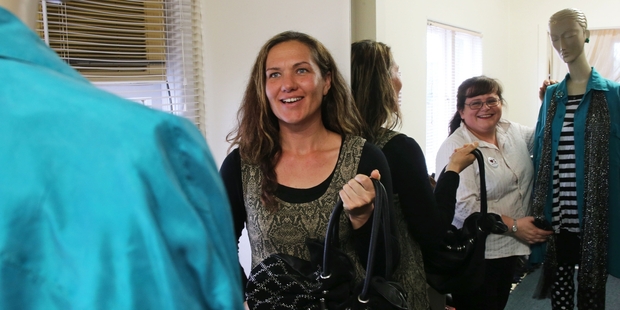 There's a warm, fuzzy feeling at Dress for Success every day but it's heightened during Volunteers' Week when everyone can take a bow for their role in providing that feel-good factor.
Dress for Success is a successful charity because of its strike rate in helping clients become winners; most women and men who use the service take away more than the right clothes for a job interview and a couple of changes for work.
"They could come in wearing hoodies, trackies, sunnies and they leave wearing Armani or Pierre Cardin or Boohoo," says executive manager Rose Daly.
The clothes are donated by a "generous public", manufacturers, retailers, cosmetic and lingerie companies, and other organisations. Sponsor businesses support in other ways too, such as clothing store TS14 which sometimes gives a discount in exchange for clothing donations, or Headlines, which gives Dress for success clients a hairdo.
This year Qantas donated a swag of tailored men's trousers from surplus uniforms; the Whangarei branch is the only Dress for Success in New Zealand that offers a service to men. A new service being developed is the Career Centre, a corner where clients can learn to write a CV or explore a job-search site.
All clients are referred by other agencies related to finding work. After being "personally styled" for an interview outfit, if they get the job they can come back for a second session outfitting them with work clothes.
"We say that 25 per cent of Dress for Success is about clothing people but 75 per cent is about what else it does for them," says volunteer Micaela Giles.
"It's not only that they feel better about how they'll look at a job interview, it does wonders for their self-esteem and confidence in other ways."
The volunteers clean, iron, sort and hang the clothes before the "exciting part, dressing the clients".
"Part of the job is heading them toward self-styling, when they learn what suits them or what is appropriate," says volunteer Marlene Stuart. "I like the buzz you get when you see people change when they get their outfit."
There are 12 volunteers and Ms Daly is the only paid staffer.
Yesterday to mark Volunteer Week, Dress for Success put on a fruit and cereal breakfast for its dedicated helpers.
Anyone who needs help from Dress for Success Whangarei can call 09-438 5505 or email northland@dressforsuccess.org