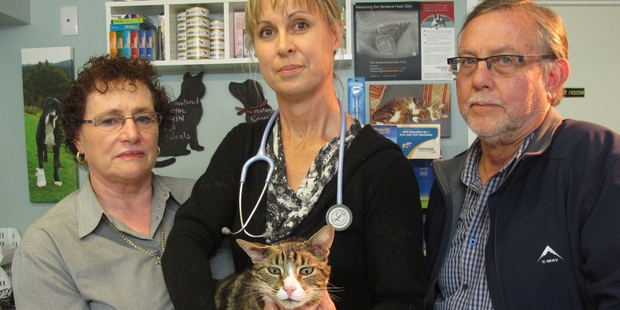 The tale of Russell's disappearing cats has had a happy ending for two of the missing moggies, found emaciated but alive after being stuck in a hole for a more than a month.

The vet treating the rescued cats is amazed by their survival and says they could not have held out much longer without food or water.
At least five felines have vanished in the town in recent months. Combined with air gun injuries sufffered by two pets, the disappearances sparked fears that a serial cat killer was on the loose.
Two of the missing pets, Oscar and Quinn, were found "very skinny, dehydrated and hungry" on Sunday. It appeared the cats had been scrapping when they fell into a gap between three water tanks. The space was so narrow one cat was forced to sit on top of the other for more than a month.
Extensive searches had been carried out but they were found only when a new tenant at the property heard meowing.
Russell resident Mal Browning said he was able to reach into the gap and grab Oscar, a Burman his partner had owned since it was a kitten, but he needed a fishing net to rescue the other cat. Both had lost half their body weight and were badly dehydrated.
They were delighted to have Oscar back and picked him up from the vet on Monday.
Marni Wynyard, Quinn's owner, expected to take her cat home on Tuesday. She thanked everyone who had lent their support over the past month.
"Let's hope we find some more of the missing cats, we're lucky ours were not shot and we hope the person who's been shooting cats is also found," she said.
Natalie Struthers, of the Village Vet in Paihia, said it was an amazing tale of survival. It would be a few weeks before she could be sure their ordeal had not caused any lasting harm, but it looked promising.
The cats had no bite marks so it appeared a month of enforced togetherness had turned the former rivals into friends, she said.
Meanwhile, the reward for information leading to the arrest of the suspected cat killer has been bumped up again by outraged cat lovers.
The owners of Tigger, the tabby that survived being shot on the head with air gun, initially put up a $500 reward for information leading to an arrest and conviction. By Friday other Russell residents had boosted the reward to $1250 and on Saturday a Whangarei cat-lover pledged to raise it further.
Tigger was operated on last week and went home on Friday. The pellet had entered one ear, travelled across the front of his skull, and lodged under the skin on the other side of his head.
Owner Lorraine Blignaut said Tigger was eating well but was not yet himself.
"He's normally an extremely talkative cat, he's always got something to say. He's not doing that at the moment but the vet said it's quite a traumatic thing he's been through, we just have to give him time."
No one had come forward as yet with information, she said.