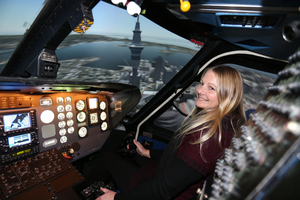 IMAGINE being at the controls of a Sikorsky S-76A helicopter with your mates in the back seat buzzing over the Bay of Islands, circling Cape Brett and then hovering over Tane Mahuta in the Waipoua Forest.
Next it's off to fly the ski slopes near Queenstown followed by a quick dash up the West Coast before a challenging land in windy Wellington.
Budding pilots and anyone keen for a taste of aviation adventure can now test their skills at the controls of a custom-built flight simulator that is a virtual replica of the rescue helicopters flown in Northland.
But the flights come with a warning. If you suffer from flight sickness best you take a few pills before taking a seat in the simulator -- it's that realistic it might just have you reaching for a paper bag.
It's a world-class simulator here in Northland thanks to a bunch of guys with a can-do attitude. To buy an operating simulator could cost up to $1million, but over a year the Northland team has made the complete package for $150,000.
The real thing
Built by Northland Emergency Services Trust (Nest) pilots and led by Grant Robinson and computer whiz John Keller, the simulator is Civil Aviation Authority (CAA) certified and used by Nest pilots and outside parties for training and pilot flight testing.
The helicopter body came from a wreck bought by Nest after the Japanese Coastguard aircraft was damaged in the 2011 tsunami.
The high-grade city and landscape visuals surrounding the machine on a curved screen make for an authentic experience. It looks and flies like the real thing -- without leaving the hangar.
Nest general manager Vanessa Furze said opening the facility up to the public was an opportunity to fundraise for the crucial emergency service but also a chance for people to have a go at the controls of one of the best simulators in the world.
"I would warn people if they do suffer from motion sickness to take some pills before coming because it's that real," she said.
The trust is launching a month-long special offer through its Nest Facebook page starting tomorrow. The first 50 people will pay $100 for an hour in the simulator with help from one of the chopper team. Then it will be a $200 charge.
"It's awesome that we have some of the best helicopter simulator technology right here in Northland."
Chief pilot Pete Turnbull, who has thousands of flying hours' experience, reckons the finished simulator was the result of hard work and ingenuity by a group who wanted to make the idea a reality.
"It was a pretty ambitious idea and at times we wondered why we had even started," he said.
"We worked as a team and sorted it out."
The simulator is in a 10m x 10m room inside a hangar at Whangarei Airport. Five computers run three projectors that cast images on to a 270-degree screen.
While the helicopter remains static it feels and sounds like the real deal.
Test drive
Northern Advocate photographer Mike Cunningham slams the door on the cockpit and settles in behind the controls.
He says he has played a bit of PlayStation in his time.
He gently pulls at the controls but takes no notice of the dashboard filled with dials just like that in the rescue helicopters.
With some instruction from his experienced co-pilot Mike he launches the aircraft from a paddock near Auckland.
It's not long before he is navigating his way between Auckland's downtown skyscrapers on his way to the helipad on top of Auckland Hospital.
It's the landing that proves a bit tricky. He crashes.
But a simple push of the button and he's off again on a quick circuit around Sky Tower.
It's so real you feel like you could reach out and touch the buildings as the chopper skims by.
Then for an illegal move -- Mike takes the chopper beneath Auckland Harbour Bridge.
Mike is proving to be quite skilled at this simulator flying. It's time to throw a curve ball in and cut the engines, forcing an emergency landing.
The aircraft gently lands on the tarmac. Mission complete.
As Mike steps out it seems he's lost his land legs and wobbles a bit before managing to stand still.
"It feels completely real. PlayStation doesn't even come close. It was so realistic after 30 seconds you forget you are in a simulator. The controls are very sensitive. It was awesome, I would recommend it to everyone."
Another first-time user, Johs Van Pierce, of Kerikeri, is amazed at the authenticity.
"It's so amazing it feels like you are climbing, banking and descending. Just the visuals give you the sensation you are in the real deal doing all the manoeuvres," he said.
* Anyone interested can contact Mrs Furze on 09 983 2254 or email generalmanager@nest.org.nz