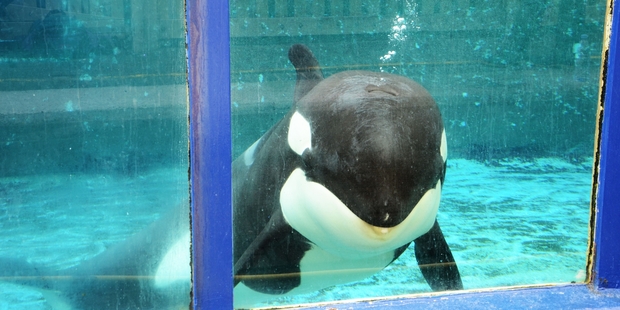 Northland marine mammal expert Ingrid Visser says she will keep fighting to free a young orca from theme park captivity despite losing a legal battle in the Netherlands' highest court.
Dr Visser has been campaigning since 2010 to have a female orca named Morgan returned to the wild. The orca was originally rescued in the North Sea and brought to a Dutch dolphin centre to recover. It was later transferred to Loro Parque, a theme park in Spain's Canary Islands.
Dr Visser, along with groups such as the Orca Coalition and the Free Morgan Foundation, maintains the transfer was illegal and that Morgan is suffering from confinement in a small tank and attacks by larger orca. She has collected evidence of damage to the orca's teeth and jaws as well as innumerable ''rake marks'' left by other orca.
After a see-saw series of legal victories and losses the case reached the Netherlands' highest court of appeal, the Raad Van State, late last year. Its judgment, upholding an earlier decision that Morgan's transfer was lawful, was released on April 23.
Dr Visser said she was devastated but determined to keep fighting for an end to keeping orca in captivity.
''Personally, I'm devastated that after all these years of fighting the good fight, to find that reason and science lost over money and ulterior motives. It's sad to see that non-profit organisations are bullied and overridden by corporate greed and unjust laws.''
The decision meant Morgan faced permanent captivity in a barren concrete tank. It was effectively a death sentence because captive orca lived on average 8.5 years compared to more than 50 in the wild.
The Free Morgan Foundation said in a statement that Morgan would become a poster-child for the fight against ''this barbaric and antiquated form of entertainment''. The group's long-term aim was a law ensuring no other animal in need could be turned into an animal used for profit.
The Raad Van State also rejected the Foundation's Morgan Release Plan, saying it was not a realistic or satisfactory alternative to captivity at Loro Parque. Nor were the judges convinced Morgan's family group had been located, or that the orca would be able to feed itself in the wild.
They said Loro Parque was experienced in keeping orca and the fact the park engaged in commercial activities did not make it unsuitable for Morgan. As for allegations that Morgan was being mistreated, the judges said the orca's health was not a matter for the case under consideration.
Dr Visser, however, said the judges were not qualified to assess whether Morgan's release plan was feasible. They had listened to big business and ignored much of the evidence put before them. Under European law they should have taken Morgan's welfare into account.
''The system has completely failed her,'' she said.
The campaign to free Morgan would continue.