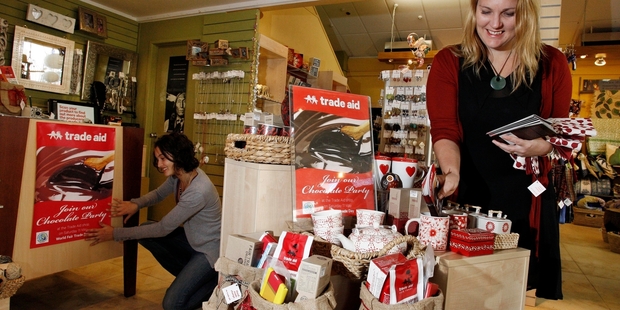 Whangarei could become New Zealand's first Fair Trade district if enough cafes and organisations bought into it.
Whangarei District Councillor Tricia Cutforth was one of the initiators of a recent Fair Trade Whangarei meeting.
"Auckland and Wellington are Fair Trade cities but it'd be great for Whangarei to be the first district to go Fair Trade," she said.
The criteria were not arduous and people at the inaugural meeting realised that some of the organisations they represented already met the requirements, she said.
Several Whangarei shops and supermarkets already sell Fair Trade products and Fair Trade tea and coffee is served by many local cafes and restaurants.
To make Whangarei a Fair Trade district, the district council would need to pass a resolution stating its support and committing to work towards meeting the minimum requirements within 12 months, serve Fair Trade tea and coffee at council functions and meetings, and appoint a liaison person to the steering group.
"It's about how we brand Whangarei, what we want Whangarei to be known for. It's about putting Whangarei on the map for all the right reasons, as being a progressive district that is first with ideas," Ms Cutforth said.
In the UK towns, cities and regions proudly trumpeted their Fair Trade status and used it as a point of difference in their marketing to visitors, she said.
Whangarei already had the country's first Growers Market, the longest standing market of its type in New Zealand.
"In the United Kingdom, Fair Trade links very closely with local economic development, especially small artisan food producers," Ms Cutforth said. "There's a shared interest in ethical business, provenance, traceability, knowing where products originate from - knowing the story behind the product or business."
Fair Trade principles aligned closely with "buy local" and the development of twinned towns or sister cities, she said.
The next steps for the Fair Trade Whangarei group include an informal stocktake of local supermarkets and cafes and encouraging organisations such as churches, schools, workplaces and businesses to go Fair Trade.
The group is planning a series of events in a few weeks when Karen Yung, the Wellington based communities co-ordinator for the Fair Trade Association of Australia and New Zealand, will be in Whangarei.
Ms Cutforth said that as far as she was concerned Fair Trade was a "no brainer".
"It makes economic and social sense. It's both good business and business doing good."