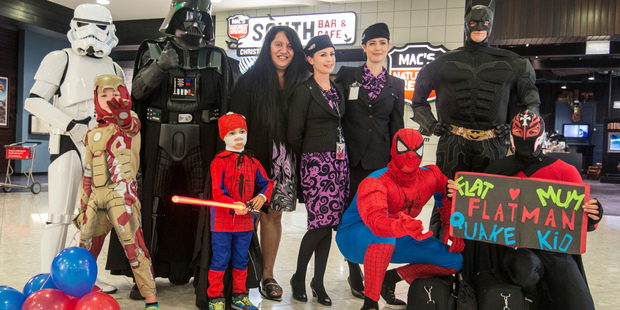 A Christchurch superhero famous for helping quake-affected citizens is heading to Northland after striking up an super-powered friendship with a sick five-year-old.
Flat Man made his name in the wake of the 2011 earthquakes by delivering food parcels to student flats and struggling families. An ordinary student by day, by night he changes into a Crusader-coloured mask and tights as he carries out good deeds.
The homegrown superhero had no idea, however, that he was also bringing happiness to a little boy in the Far North.
Phoenix Matthews, from Kawakawa but now living in Kaikohe, has had chronic eczema since he was a year old.
He is cared for by his grandmother, Gayelene Tupara, who said the condition made his skin unbearably itchy. When scratched his skin bled, blistered and became infected.
''It's cruel. I wouldn't wish it on an animal, let alone a child. The doctors say he'll grow out of it, the question is when?''
Phoenix has a strict regime of creams and moisturisers and is almost entirely wrapped in bandages during flare-ups - but it's the emotional effects that worry his mother, Janie Witehira of Waipapa.
''He notices when adults pull their kids away or when other children stare. He started to cover his face in social situations. He didn't care about the sores, it was people staring at him,'' she said.
Mrs Tupara said Phoenix was about two years old when he started noticing superheroes. When he wore a Spiderman costume his facial bandages became part of his superhero identity, something to wear with pride rather than shame.
And when Phoenix saw Flat Man on a TV earthquake report he felt an instant bond.
''He said, 'He's a superhero, and he looks just like me'. It made him proud of who he is, and he started telling everyone who would listen that is name was Flat Man.''
When one of Phoenix's home tutors from the Hippy education programme contacted Flat Man to tell him about his young fan, that was all the prompting the southern superhero needed. He launched a fundraising drive and soon had enough money to treat Phoenix and his grandmother to a ''superhero's day out''.
On March 25 the pair was flown to Christchurch on all-expenses-paid trip with a welcome at every airport and on every plane. When they landed a crowd of superheroes was waiting with gifts and banners.
''Then the tears really flowed, I felt the love of those people,'' Mrs Tupara said. She responded the best way she could, with a karanga that rang out through the arrivals hall.
Used to a simple life in the Far North they were overwhelmed by their hotel - a place fit for ''kings and queens'' - and were showered with yet more gifts, including a signed Crusaders jersey.
They were treated to a morning tea hosted by Mayor Lianne Dalziel, a tour of the Antarctic Centre and a ride on the Christchurch Gondola. Flat Man and Phoenix spent hours at Hagley Park playground where even feeding the ducks was a new experience for Flat Man's mini-me. Coverage in local media meant the young superhero was recognised and greeted everywhere he went.
For Mrs Tupara the trip was made even more emotional by seeing first-hand the earthquakes' devastation.
''What really took my heart was that they've lost so much, but they can still reach out to a little boy in the Far North. That takes a very special community.''
Mrs Tupara said Flat Man was now planning a trip to the Far North to see Phoenix again. The Christchurch superhero had only visited a marae as a schoolboy so a welcome at the family marae at Mataraua was top of his itinerary.
Flat Man was equally moved by meeting Phoenix and the ''incredible woman'' he now calls Wonder Gran, describing it as a ''a very emotional, heartwarming experience''.
''Anyone who embraces their inner superhero deserves to have a special day, and for Phoenix to go through what he has and still be so full of confidence, love and kindness is amazing,'' he said.
''Their visit was far more emotional than I'd planned and it has changed me for the better. I dream to be able to create super days like this for more children. We've definitely created a super bond that we'll always have.''
Mrs Tupara said Flat Man had made Phoenix proud of who he was.
''He doesn't know how much he's uplifted a little boy in the Far North. He's also given Phoenix a new dream, of being able able to help other people, just like Flat Man.''