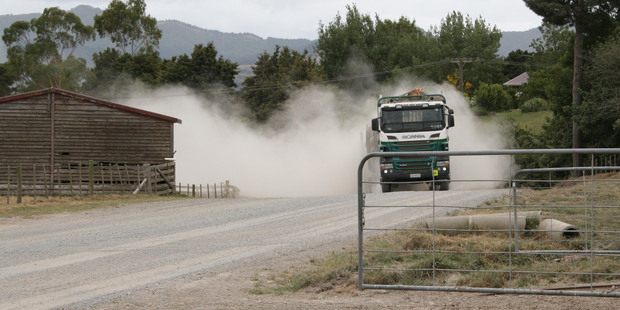 Health problems caused by dust kicked up by heavy logging traffic are being added to by a carcinogenic oil-based suppressant councils are using outside some properties, the Pipiwai Road Action Group says.
Last month the action group staged a roadblock on the boundary of Far North and Whangarei districts at Pipiwai after a year-long stalemate over the dust problem.
In May it will hold a hikoi in Whangarei timed to coincide with hearings to consider a draft Long Term (2015-2025) Plan, which will include submissions by the group for local seal extension.
Since Northland Regional Council and Northland District Health Board air tests more than a year ago confirmed the size and levels of dust particles breached recommended health standards, independent testing by Hills Laboratories on the material used to hold dust down has shown it is oil-based and a carcinogenic risk.
The use of waste oil on roads is prohibited under the Resource Management Act.
Dairy farmers Alex and Graham Wright said the Northland Regional Council resource consent for the material's trial states the 195m of road on Site D, in Wrights Rd, Titoki, had no commercial dairy, root crops or fruit trees in adjacent lands.
"This is absolutely incorrect. We have our dairy shed and commercial business right next to this oil-treated part of Wright Rd. We supply Fonterra," Mrs Wright said.
Site A, in Pipiwai Rd, also has an adjacent dairy shed, a commercial business supplying Fonterra. Residents have been campaigning for 10 years to have the roads tarsealed or for the logging trucks - numbers of which have risen to up to 100 a day - to use only sealed roads.
"Now we are being treated with short-term measures that are very bad for our community's health and to the environment," the Wrights said.
In what the group calls buck-passing, the councils say they cannot afford to seal any roads as they get no subsidy from the Government while the Government says it is up to districts to take care of roads not part of the national highway network.
The action group has had several meetings with local authorities, the health board, road user groups and other stakeholders, the last one a month ago and another planned for June. A Whangarei District Council application to the Government funding for seal of 100-metre strips in front of worst-affected homes was turned down but an application is now in for a special, petrol-tax fund. A precedent has already been set by an $11million sealing programme approval in Whanganui.