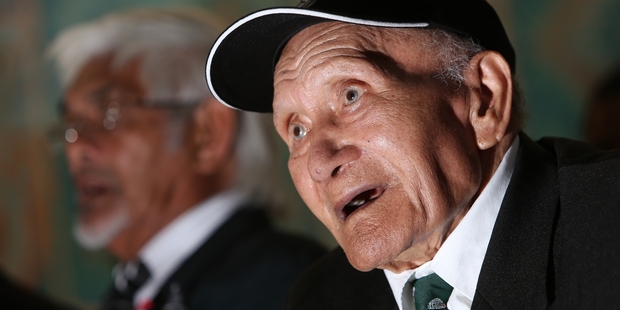 One of the lessons learned by students at Te Kura Kaupapa Maori O Te Rawhitiroa this week is that there are some words which occupy a place of their own in the world but will forever be identified with people and where they belong.
Among those words are Anzac, and "Ake, ake, kia kaha e!" from the marching song of the 28th Maori Battalion and its A company, filled by the men of Te Taitokerau.
On Thursday the school in Tikipunga held its annual Anzac Service, where Northland veterans from several international conflicts were guests.
Most honoured among them was Whakahoro (Sol) Te Whata, 96, one of only two Northland men still alive who were in that famous battalion.
Mr Te Whata, who lives in Moerewa with wife Martha, served with the A Company "Gumdiggers" in North Africa and Italy between 1941-45.
Other former soldiers who attended the school's Anzac commemoration - which was held this week because of the way school holidays fall - had served New Zealand in Vietnam, Malaysia, Borneo, Timor and many other countries.
The service was led by Reverend Tuha Panapa, also a veteran.
"The word Anzac has become one of the immortal names in history," Reverend Panapa told the students and other visitors.
In a moving dedication speech, senior students said the school's service was in memory of all New Zealanders who fought and died in fields of conflict.
"All cultures in this remarkable country should have an understanding and a place in their hearts for those who served this nation with distinction - and did not return.
"In support of others, more than 30,000 New Zealanders are buried in more than 60 countries and oceans of the world.
"We meet on Anzac Day to stand alongside the extended families of those who did not return. We also stand alongside the veterans that came back and we stand here today to remember those who did not return.
"They gave their today so we could have our tomorrow."