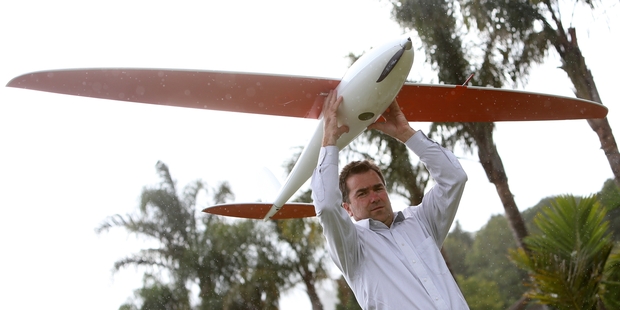 A team of Northland surveyors is taking aerial mapping to a whole new level using the latest technology.
Beasley and Burgess Surveyors, based in Whangarei, are the first surveyors in Northland to use an unmanned aerial vehicle (UAV), commonly known as a drone, to take photos from the sky for aerial surveying.
While it is called a drone it looks suspiciously like a small and sleek glider. It has a 2.6m wingspan, is 1.3m in length, weighs 4.2kg and is easily launched by hand by throwing it into the sky.
The craft flies 120m above the ground at a speed of 60km/h. It can operate in winds of up to 30km/h and with a tail wind can reach 100km/h.
A camera with a wide-angle lens is fitted in the body of the craft and it snaps photos as it cruises across the sky.
Surveyor Sam Beasley said the drone was controlled by a laptop computer called a ground-control station. Waypoints were entered on a topographical map to guide the drone over the area that needed to be photographed.
"Just like GPS revolutionised surveying, this device will revolutionise the way we do things again," Mr Beasley said.
The battery power lasts about 90 minutes and when it is time to land, a parachute is activated.
"When we were training, the parachute was deployed automatically after a stall and it ended up in the top of a poplar tree so we climbed the tree to get it down."
But since it had operated in Northland there had been no crash landings.
The software enabled photos to be joined to provide high-resolution images. Mr Beasley said three-dimensional images could also be produced.
They had photographed a 3sq km area of central Whangarei. The maps were useful for town planning and designing where major roads or infrastructure should go.
The Northland Regional Council, local farmers, quarries, planners and designers had all utilised the technology.
The development of drones began in 1959 when US Air Force officers, concerned at losing pilots over hostile territory, began planning unmanned flights.
Now drones are deployed world-wide for military purposes and civil applications such as 3D visualisations, disaster mapping, mining, environmental monitoring and surveillance of pipelines and infrastructure.