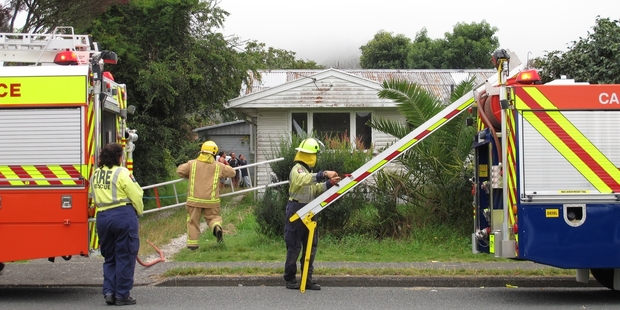 Update, 8.30am: The cause of a fire which damaged a Moerewa home has been ruled suspicious but undetermined.
The blaze, on Otiria Rd just before 8am on Wednesday, damaged the rear of the house and had started spreading into the ceiling cavity.
The occupants had left for work but a neighbour spotted the smoke and doused the flames with a garden hose until the Kawakawa Fire Brigade arrived.
Fire investigator Terry Baylis traced the origin of the fire to a rubbish bag on the back patio. The home owners were adamant no cigarette butts had been placed in the rubbish, and there was nothing in the bag that could have ignited spontaneously.
Although no one had been seen at the address it appeared the rubbish bag had been moved after the occupants left that morning.
While the exact cause could not be determined the fire remained suspicious, he said. Police are investigating.
Thursday, 7am: Police are investigating a fire which damaged a house in Moerewa yesterday.
Neighbours raised the alarm just before 8am when they saw smoke at the Otiria Rd home.
Kawakawa fire chief Wayne Martin said the neighbours used a garden hose to keep the flames from spreading until firefighters arrived.
Fire crews from Kawakawa and Kerikeri quickly extinguished the blaze, limiting damage to an exterior wall. The interior was thought to have sustained smoke damage.
Mr Martin said the fire, which started at the rear of the weatherboard house, appeared to be suspicious.
Police immediately began an investigation. It is believed the house was unoccupied.