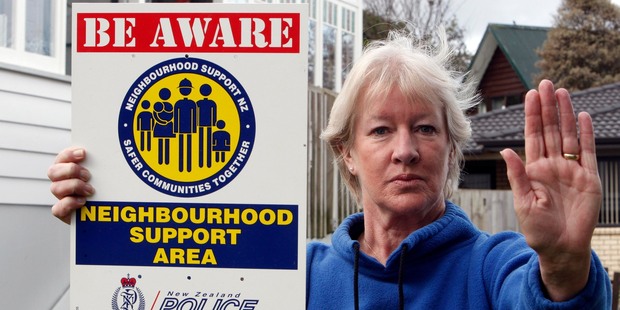 Swift community action is being credited with catching two alleged burglars after Raumanga residents saw somebody throw a copper hot-water cylinder into a ute and told police.
Whangarei police are urging Raumanga residents to be extra vigilant at the moment after a spate of six burglaries in the suburb since Friday and have suggested a Neighbourhood Support Group be set up.
Whangarei Neighbourhood Support co-ordinator Sandi Adams said there were 70 groups in the district and she had been trying to set up one in Raumanga since taking up her role a year ago, but to no avail.
"But this is a great example of what happens when neighbours keep an eye on each other. We want to encourage people to get back that neighbourly feeling and take ownership of their neighbourhood.
"We can't rely on the police to always be there so we've got to be their eyes and ears in the community as well. If you ring the police and somebody is doing something suspicious they will come and check it out."
Whangarei police area prevention manager Senior Sergeant Cliff Metcalfe said quick thinking from suspicious Raumanga residents foiled two suspected burglars. Mr Metcalfe said suspicious activity could sometimes be linked to burglary, so people should call police if they saw anything untoward.
Residents in Raumanga saw a man throw a hot-water cylinder over a neighbour's fence, drag it to another property and load it into a ute. The residents thought it was strange, so called police.
Police said they found the cylinder at a scrap-metal dealer's yard about 30 minutes after the burglary took place and arrested two people in relation to the matter.
Mr Metcalfe said if the neighbours had not called police the burglars would have got away with it: "Neighbours need to keep an eye on each other's properties, especially when people are away.
"It is also a good idea to form a Neighbourhood Support Group," he said.
Anyone who would like more information on setting up a Neighbourhood Support Group should ring 0800 4NEIGHBOURS or 0800 463 444. Meanwhile, a heartless thief broke into the RSA Bowling Clubrooms in Whangarei early on Monday and stole money from a hospice charity collection box.
Club executive member Barry Nalder said somebody had broken in about 6.30am, entering through a window.
They had stolen between $80 and $100 from the hospice box, as well as helping themselves to some loose change from the club itself, Mr Nalder said.
"It's a pretty low thing to do, steal from a charity box, but police got some pretty good fingerprints, so hopefully they'll get caught," he said.
Anyone who saw any suspicious activity in area around the bowling club, in Rust Ave, at the time of the burglary or has any other information relating to it can contact Whangarei police on 09 430 4500, or if they wish to remain anonymous, they can contact the Crimestoppers organisation on 0800 555 111.
In 2013, there were 2688 burglaries in Northland, up 14.9 per cent on the previous year, police crime statistics revealed this month.