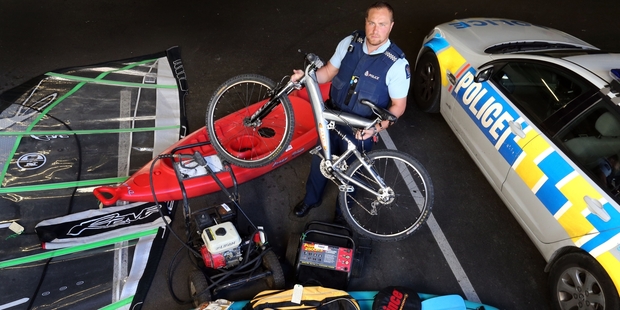 Whangarei police officer Joseph Reuben has the tough job of returning thousands of stolen items recovered during warrants in Northland to their owners.
And while the constable has been able to return a number of items there are still thousands yet to go including kayaks, water blasters, alcohol, wallets, phones and a windsurfing sail.
Mr Reuben is getting up to 20 emails a day from people trying to track down items that may have been recovered by police during Operation Genevieve.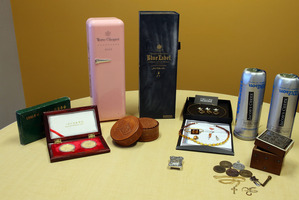 The property is believed to be from burglaries around Northland and Auckland and was discovered when police raided five addresses in the Whangarei area last month.
In a bid to find owners photographs of the items were posted on the Northland Police Facebook page and so far the response has been great.
"The first week was hectic and after people saw the story in the Advocate they were at the police station wanting to view the stuff," Mr Reuben said.
A Whangarei family who were burgled while on holiday in Europe were able to claim back hundreds of items. Mr Reuben said while it was great to be able to hand back precious items sometimes the least valuable items but of huge sentimental value were not amongst the mountain of property.
"It was great to give it all back but what they really wanted wasn't there."
Some of the more interesting items included a nursing medal with the name Ingeborg M.K.Maegaad engraved on the back.
In the same case there was a small gold locket, a heart pendant with two faces lasered on the front and the words "Happy Birthday Nan Love Connor and Mackenzie xx" and a small gold heart locket with two photos inside. The trinkets were accompanied by a speech delivered at an 80th birthday.
Anyone who has been the victim of a burglary in recent months can view the page at www.facebook.com/NorthlandPolice or ring Mr Reuben on 09 430 4652.