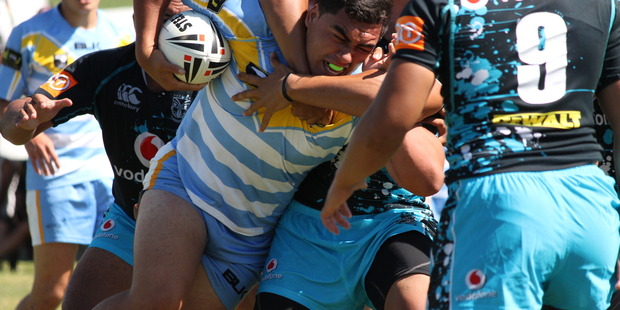 Northland secondary school rugby league players showed plenty of heart against a Warriors Development side, fighting back after leaking early points.
While the NorthTec Adam Blair XIII, which is a selection from the inter-school secondary school competition, may have lost 42-28, they pushed their more experienced opposition at times.
Adam Blair XIII coach Benson Selwyn was stoked with his boys' performance, noting their scrambling defence.
"If we could have had a bit more patience and ball control who knows what could have happened," Selwyn commented of the game at Hikurangi. "But I guess when you have limited preparation that is understandable."
Selwyn, who will coach the Northern Swords 17s later this year, is excited at the potential of the team.
"Only seven of the boys [on Saturday] are too old for the Swords - if we can get these players to continue with league the prospects look good."
Early in the match, the Warriors got off to a flyer as loose forward Shane Hannan crossed over almost untouched for the first of his two tries in the opening set of the game. After the kick off, the Warriors again waltzed down the field with easy yards and the Northland boys looked a little gun shy.
However, the Adam Blair XIII quickly responded. Strong running from Kamo High School's Jesse Chapman meant Taipa Area School's Raharuhi Fiaui could dart over from dummy half. The self-belief from the home side meant the Warriors took only a slender four-point lead into half time, 22-18.
The second half saw the Northlanders take a 24-22 lead after a try to impressive Whangarei Boys' High School player James Cherrington.
With momentum on their side, it looked like an upset could have been on the cards.
However, the Warriors proved to have superior rugby league knowledge and patience as they scored four unanswered tries to control the match 42-24.
The Northlanders had the last say, though, with a sublime try after they moved the ball from one side to the other, with Boys' High's Chaz Palmer dotting over in the corner to finish the game.
The match was played in front of at least three ex-Kiwis, with Dean Lonergan, Duane Mann and Tony Iro present.
Iro, NZRL high performance manager, was suitably impressed by the Northland boys: "Considering they only had one training they showed a hell of a lot of spirit, they scored some sublime tries and their scrambling defence was outstanding."
Northlander Tumoana Halkyard was playing for the Warriors at fullback and looked good before having to leave the field before half time due to a recurrence of a calf strain.