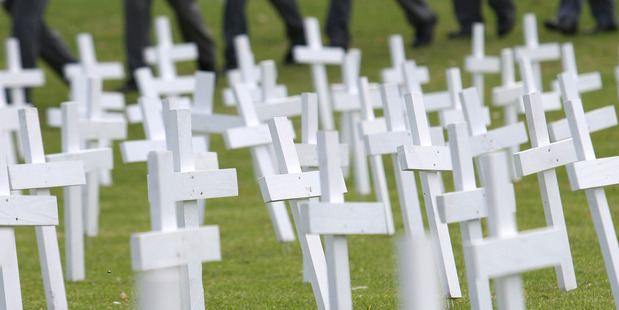 A field of remembrance leading up to ANZAC day to honour war veterans will take place in central Whangarei tomorrow morning.
The Whangarei RSA has revealed that a permanent memorial to honour those from Whangarei that sacrificed their lives during wars is planned at Laurie Hall Park in time for ANZAC centenary commemorations next year.
The Whangarei District Council will fork out the cost and arrange for designs in consultation with the Whangarei RSA and the community.
Whangarei RSA Trust chairman Archie Dixon said the new memorial would embrace names of 600 war veterans from Whangarei, especially those that died during WW2 and
post-WW2, whose names have not previously been engraved in a memorial.
Despite the new memorial, he said the field of remembrance where hundreds of crosses were placed at the same venue would continue.
Tomorrow, 400 crosses would be placed during a ceremony at Laurie Hall Park to be attended by schools, current members of the armed forces, representatives from police and the NZ Fire Service, and war veterans.
A further 100 crosses will be added during the next 30 days.
Whangarei mayor Sheryl Mai and the head boy of Kamo High School, Joseph Faithful, will be chief guests at tomorrow's ceremony.
Mr Dixon said Faithful will give the same speech he delivered at the regional finals of RNZ/RSA-ANZ national speech competition on New Zealanders at War.
The Whangarei Youth Music Concert Band will play, with lyrics to be sung by a broad spectrum of age groups, from youths to senior citizens.
Mr Dixon said over the next 30 days, people would have an opportunity to personalise he crosses in memory of their loved ones who were either killed in action or died of wounds during the war.
The placement of crosses in Whangarei first started in 2010. Rehearsal for cross placements will start at 9.30am. This year marks a century since the beginning of World War 1.