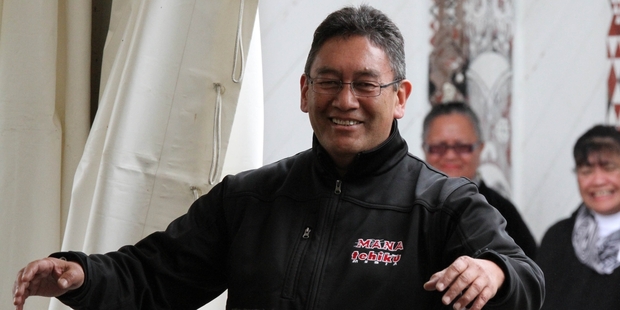 Te Tai Tokerau MP and Mana Party leader Hone Harawira has ruled out working with Kim Dotcom and his proposed Internet Party - for now.
Mr Harawira had meetings with Mr Dotcom recently amid speculation the pair were trying to sew up a deal ahead of September's general election with a view to getting list MPs from Mr Dotcom's Internet Party into Parliament on Mr Harawira's coat-tails.
But Mr Harawira said no deal would happen now and the Internet Party needed to sort out what it stood for.
"Dotcom would have to commit to getting rid of National and changing the government before Mana would consider any deal with his Internet Party.
"That's a bottom line for Mana. I resigned from the Maori Party because their relationship with National was, and continues to be, destructive to Maori. We won't be going back there for anyone."
Mr Harawira said Mana would work with any party, as it does with the Greens and Labour, that was committed to changing the government.
"And I don't think the Internet Party is ready to take that stand at the moment.
"They don't have a real membership base, clear policies, recognisable political leaders or any candidates.
"We were happy to talk about the potential for co-operation, but time is short.
"We've got an election coming up and campaigns to organise, especially in the Maori seats. Asking the membership to put all that on hold while we wait for the Internet Party to decide what they stand for is just not an option.
"Our executive has decided that there won't be any more meetings on possible co-operation until their intentions are clear and we're just going to get on with planning our electorate and party vote campaigns."
Mr Harawira said that could change if the Internet Party committed to getting rid of National. With a party needing to win an electorate seat of get 5 per cent of the vote to get an MP in parliament, Mana needs Mr Harawira to retain his Te Tai Tokerau seat to get back into office. The party could then get list MPs in if it gets enough support in the party vote.
Mr Dotcom has said Mana is one of several parties he is talking to about forming an alliance to contest the election.