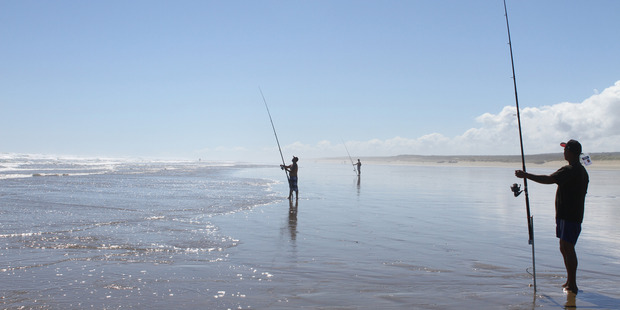 This year's Snapper Bonanza got off to the best possible start with perfect conditions, a record number of snapper landed, and a fish big enough to win the contest outright in previous years hooked in the first few hours.
More than 700 anglers, on a par with last year's tally, lined 90 Mile Beach for Tuesday's 7.30am start.
They are competing for cash prizes of $70,000 - including $30,000 for the heaviest snapper - plus lucky draw prizes such as a Mitsubishi Triton ute worth a total of $100,000.
Less than three hours into the contest Kaitaia mill worker Neil Sides landed a 9.995kg monster. He is now praying no one hooks a bigger snapper by the time fishing ends at 4.30pm on Saturday.
Mr Sides thought he had hooked a stingray at first because of the way it took off. It was only when he managed to reel it into the shallows that he realised what he had caught.
It was the biggest fish he had landed in his 18 years of competing. He refused to even consider what he would do if he won the $30,000 top prize, contenting himself with the $2000 cheque for heaviest fish of the day.
''I'm not even going to think along those lines. There's still four days' fishing to go,'' he said.
A total of 376 snapper were weighed in on Tuesday. Co-organiser Dave Collard said it was the best day's fishing he had seen in the four years since the Bonanza started. Contest veterans told him it was the best opening day in the 32-year-history of surfcasting tournaments on 90 Mile Beach.
Conditions were perfect with easterly winds, sunshine, a swell of 2m and falling, and the stir-up provided by Cyclone Lusi bringing fish in close.
The original Snapper Classic, said to be the world's largest surfcasting tournament, was founded by Tony Brljevich in 1982 but folded after the 2009 event when new owner Srecko Urlich ran into financial difficulties.
The contest was rescued in 2011 under a new name, the Captain Morgan Snapper Bonanza, by Mr Collard, a publican and district councillor, and John Stewart, a printer.
Mr Stewart said it was an event the district could not afford to lose. According to a council economic impact report, the contest pumps $2 million into the Far North economy each year. Organisers ''did not spend a penny'' outside Northland and all prizes were bought from Far North businesses.
Two-thirds of contestants came from outside the district so were also paying for accommodation and meals. Thirty of this year's anglers had travelled from Australia; one came from Italy almost every year.
Mr Stewart said the contest had a powerful appeal.
''To a lot of these people, it's their annual getaway. There's people here who've been coming every year since it started. I can't believe the passion they have for this event.''
However, organising the event consumed a huge amount of time and sponsorship was increasingly difficult to find.
Another problem was the confusion sown by the organiser of the defunct Snapper Classic, who continued to advertise his event even though it had not been held since 2009.
The Classic announced new dates online each year, only for would-be competitors to be told later - sometimes after they had booked flights from Australia - the contest had been cancelled. The result was frustration for fishers and lost ticket sales for the Bonanza.
The contest is also a fundraising opportunity for other organisations. Houhora Coastguard will be providing a hangi to raise money for a new vehicle. Far North Surf Rescue, which saved the life of an angler sucked out by waves last year, is patrolling the beach.
Day one results
The best fish of day one were caught by Neil Sides, Kaitaia (9.995kg); Sam Rodewyk, Otumoetai (8.395kg); Richard Grace, Wairoa (7.355kg); Roy Langford, Awanui (6.405kg); and Robert Schrafft, Kaitaia (6.280kg). Average weight (2.377kg) prize went to Murray Morris of Matamata.
The top prize in Monday night's earlybird draw, a $4500 Seahorse torpedo, was won by Ohaeawai farmer Lance Gravatt.
The all-time record to beat (12.03kg) was set by Te Puke's Darin Maxwell in 2012.
Today is Reel Rods day, when contestants are allowed to fish anywhere from Tokerau Beach in the east to Shipwreck Bay in the west. However, today's fish do not count towards the big prize.