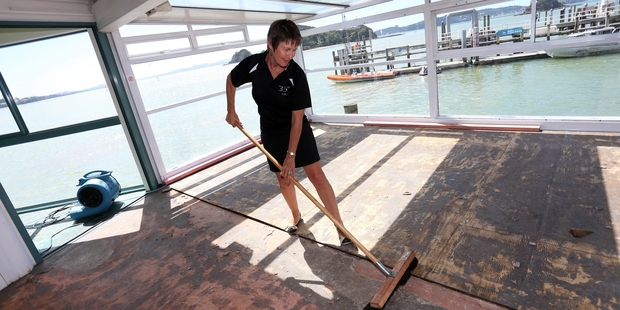 For several hours Gayle McMaster watched helplessly as Cyclone Lusi trashed her business.
Now Lusi's gone, leaving Mrs McMaster working around the clock to ensure her Paihia restaurant will open for business next week.
A window at Mrs McMaster's 35 Degrees South restaurant and aquarium was burst open and waves crashed through the building, flooding it to bar level as the cyclone caused chaos in Paihia.
Mrs McMaster could do nothing but watch as waves flooded her business and ripped up wood from the deck on Saturday.
The picture on Sunday was uplifting - she arrived back at her restaurant to find volunteers pitching in to clean up the debris from the storm surge.
"It's been all hands on deck. The phone's rang hot with people offering to help," she said.
"It's nice we have had such strong support."
She said while weather could not be helped, she was determined to learn from the experience. Had she not taken the necessary precautions, it could have been months before the restaurant was open again.
An aquarium was damaged, some fish died, and the deck was torn apart.
Mrs McMaster saved further headaches for herself by having a plan in place to ensure the business could operate remotely. She backed up all the computers to a laptop and ensured freezers and storage systems were safe.
Local co-ordinator for Civil Defence Alistair Wells said if the McMasters hadn't had a plan in place to protect the business from further damage it could have been months before it was operational again.
"They did a really good job. It is a real reminder that if you can do a little bit of crisis management before, it can prevent a lot of fixing up after," Mr Wells said.
Mr Wells said a lot of small businesses operate digitally and do not have back-ups in case of power cuts or water damage during a storm.
Mrs McMaster said she was surprised she had not seen more businesses sandbagging and preparing for the worst after the warnings that Cyclone Lusi could cause damage.
Flooding in an underground carpark on Marsden Rd could have caused a large power loss as a Top Energy transformer was in danger of being damaged.
About 20 volunteer firefighters from East Coast Bays, Birkenhead and Silverdale were in Paihia on Saturday to assist the Paihia fire service and they pumped 160,000 litres of water.
The Auckland fire officers went back on Sunday.
Paihia fire chief Shane Schrafft said the community had been quick to assist with cleaning of debris from the waterfront area.
"The community has got in and cleared rocks and things from around the waterfront. Everyone pitches in."
Three businesses had been affected, not the 35 as earlier reported.