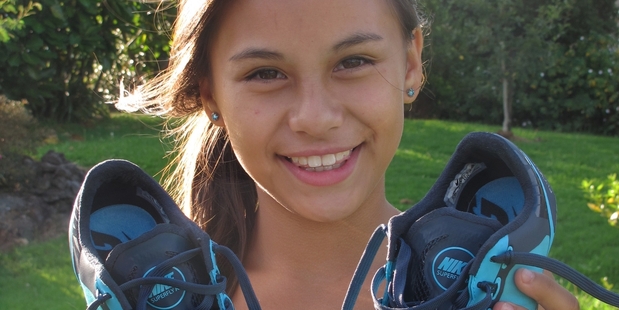 Kerikeri 10-year-old Billie Brown wants to give her brand new running shoes to a deserving young athlete - even though she's saved for a pair since the Colgate Games, where the sight of other kids competing in track shoes astonished her.
Read her letter (below) to see why she's keen to give away her dream Nikes.
They are designed specifically for sprinting on synthetic tracks for up to 200m, and are suitable for children aged 10 and over who take a US size 5 shoe.
If you are a young athlete who would like to have Billie's shoes, get your school PE teacher or sports club coach to nominate you by sending an email to peter.degraaf@northernadvocate.co.nz.
Billie's letter
My name is Billie Brown.
I like to run and compete at athletics. I run in the 10 year olds at the moment.
I had a lot of fun at the Colgate Games and was amazed with the types of track shoes that some other runners had.
I didn't realise that at 10 you can wear track shoes. I decided I wanted to save money to buy a pair. I thought they would stop my feet burning on the track on a hot day and they would be cool to run in.
I started to do chores and spent all day one day doing a sausage sizzle with my Dad, sister and brother to raise money for my new track shoes.
I picked some track shoes on the internet and dreamed about the colourful shoes. They were from America. They were Nike Zoom Superfly R4 shoes, size 5 US.
One of Dad's friends was coming over from America and my Dad asked him to get them for me. They arrived all wrapped up as a present.
``Here is your early birthday present,'' our friend said. I was very surprised and said a big ``thank you'', but I had worked hard to save the money for them.
I unwrapped them and they gleamed blue and silver. When I got them I tried them on and ran back and forth across our lawn. They were so cool to wear and were the exact colours I had chosen.
It's a few weeks later now and I have had a rethink. I'm lucky I still have the money to buy another pair.
Somewhere else though some young runner like me would also like to run in a cool pair of track shoes to stop their feet burning on a hot track but they won't have the money for them because some family budgets are too tight for extravagant shoes.
I really appreciate the present but I feel in my heart that I would like these shoes to live in another home with another excited runner. They lit up my life and can do the same again.
If you like running and are in a club. If you like competing at meets. If you want to run like the wind. If you are 10 or older then this brand new pair of gleaming track shoes is yours.
Yours sincerely,
Billie