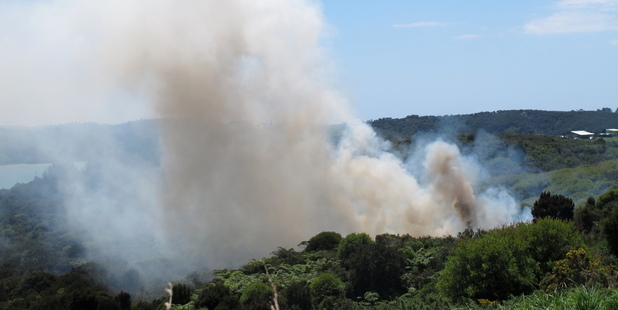 A Bay of Islands woman helped save her neighbour's house by calling 111 when she spotted a scrub fire, then keeping the flames at bay with a garden hose until firefighters arrived.
The alarm was raised about 1.50pm yesterday when Christine O'Connell saw smoke at a neighbour's home on Redcliffs Rd, north of Kerikeri. Knowing her neighbour was away, she sent her son across the road to investigate and called the fire brigade when he discovered a bush fire.
Mrs O'Connell grabbed her garden hose and got to work with her children's help, keeping the grass around the house wet until Kerikeri Fire Brigade volunteers arrived. She also flagged down a passing car for help. Scorch marks showed the fire had come to within a metre of the back door before spreading into scrub and bush down the valley.
Three crews battled to put out the blaze, with two helicopters on standby. Northern principal rural fire officer Myles Taylor said the close call was a classic example of what could happen when property owners did not have a defendable space around their homes.
In this case, kikuyu and other vegetation was growing up to the rear of the house.
"She's very lucky to still have a home," Mr Taylor said.
He estimated at least half a hectare of vegetation had burned. If the flames had reached bush which stretched all the way to Te Puna Inlet, it could have been a "million-dollar fire", meaning it could have cost that much to put it out.
An investigation is under way but the blaze is likely to have started from an old rubbish fire fanned back into life by wind and high temperatures.
A total fire ban is in force in the Far North.
At edition time yesterday, the Rawene Fire Brigade was fighting a similar vegetation fire threatening a house on Parnell St, Rawene's main road.