Backlash building over illegal 'squeegee bandits'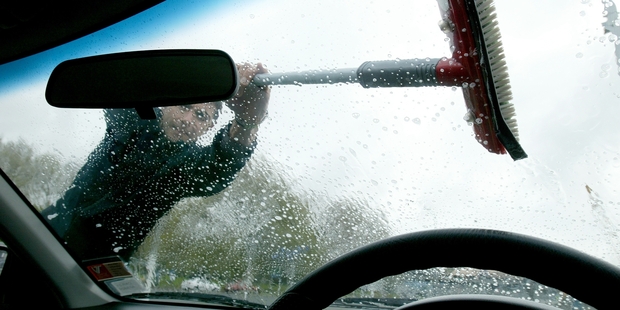 Police are investigating the alleged assault of an official trying to fine a "squeegee bandit" washing windscreens of vehicles at a Whangarei intersection.
Environment Northland manager Keith Thompson was allegedly spat at and struck with a squeegee brush at the Rewarewa Rd-State Highway One intersection about 5.30pm on Thursday by a windscreen washer he had come to issue with a $500 fine.
In the Whangarei District Council (WDC) parking and traffic bylaw 2009, any person who washes a window of a vehicle on a road for money can be fined $500 if he or she continues to do so after being asked to move on by a police or council officer.
The "squeegee bandits" have been out in force this summer on Whangarei roads - spotted at a major Kamo Bypass intersection, the Rewa Rewa Rd-State Highway 1 intersection and the Maunu Rd-State Highway 1 intersection.
Sergeant Paul Nicholas said Mr Thompson was allegedly assaulted while going to issue a fine to a windscreen washer.
"The council worker was spat at and hit with the washing brush in the head," he said.
WDC bylaw co-ordinator Mike Henehan said he took all necessary steps to ensure the safety of workers.
"Naturally it is upsetting, and disappointing, when members of our team are abused simply going about their work.
"However, incidents like this do still sometimes occurs. The matter is now in the hands of the police."
Police have received complaints from motorists feeling intimidated by washers at the Rewa Rewa Rd-State Highway 1 intersection, spokeswoman Sarah Kennett said.
"We are aware of complaints at that particular intersection. However, we encourage people to refer their complaints to the council."
She said motorists should notify the council when they saw windscreen washers at work on the roads, and only contact police if they were feeling intimidated.
Gina Jones of Kamo said she had been in two situations in which she felt threatened by windscreen washers, whom she saw three or four times a week on the roads.
The first incident had occurred while her sister was driving her through the Kamo Bypass-Kamo Rd intersection at about 2.30pm one day in the past week.
The driver had waved away the washer but he had insisted on washing. "She said no but he wouldn't listen and she ended up beeping her horn and flicking on her windscreen wipers to make him go away."
Her sister had also come across windscreen washers in a Countdown supermarket shopping centre.
A boy about 13 years old had been washing windscreens of empty cars, then asking for money for his services when shoppers returned to their vehicles.
"He was with three older guys who seemed to be peering into the cars and looking for stuff."
Ms Jones said the washers were "a pain".
"They hold up lights. You can sit there with your light green for a good minute or so until they finish what they're doing," she said.
A Countdown spokesman said the company had been working with police to ensure the group of people wanting to wash windscreens in the carpark did not come back.
The Northern Advocate asked its Facebook followers for their experiences of having their windscreen washed at intersections in Northland.
Here are some comments:
Michelle Reid, "One of them that twirled the window washer around used to be quite entertaining to watch ... haven't had a problem with them."
Wayne Ballantine, "I had one just come up and start cleaning my window while waiting for my wife in the Countdown carpark a couple of weeks ago. Even my 5 year old thought it was wrong they didnt even ask first!"
Shell Green, "I dont really agree with it but so long as they listen when you say no then I dont see any harm."
Ashaa Joyce, "Awkward sometimes when u say no an they still do it then u feel oblidged to give them $. My windscreens already clean I do it myself most times I put gas in the car."