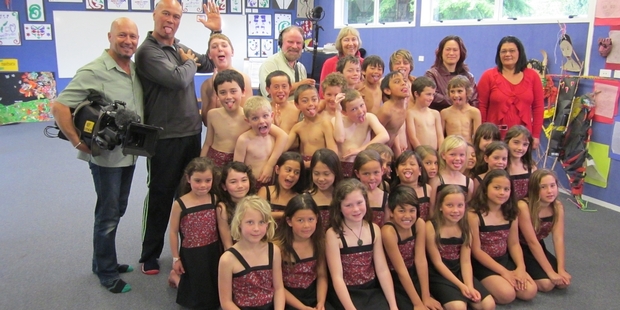 A Northland farming family and the kids' rural school will star on Country Calendar tomorrow.
A TV crew spent five days following the Jack family as they went about their work on a beef and dairy farm overlooking Lake Owhareiti near Pakaraka, as well as filming the kids at 134-pupil Ohaeawai School.
Alec Jack expected the episode would focus on their humane calf-rearing practices - a hot topic, given recent controversy over the treatment of calves on a Kiwi-owned farm in Chile - and the everyday work of running a dairy farm in spring.
The family expanded into dairying after buying the neighbouring farm two seasons ago. The low-input dairy unit had 500 spring-calving cows milked once a day all season, with effluent recycled back on to pastures via a land application system.
Mr Jack said the beef and dairy operations were integrated with dry cows and replacement heifers grazed on the beef farm, and most dairy calves reared as replacements for the beef farm.
A quarter of the 880ha property had been retired from farming in the form of waterways and native bush.
The show would also have a strong Maori focus thanks to the many archaeological sites in the area, including Pouerua, a former pa site and Category I historic place, as well as the family's heritage.
Mr Jack's wife, Kelly, and children Olivia, 12, Todd, 10, and twins Jessica and Kate, 7, are of Tainui descent.
Mr Jack said the family's close involvement with nearby Ohaeawai School would also be explored.
The episode is due to screen at 7pm tomorrow on TV One.