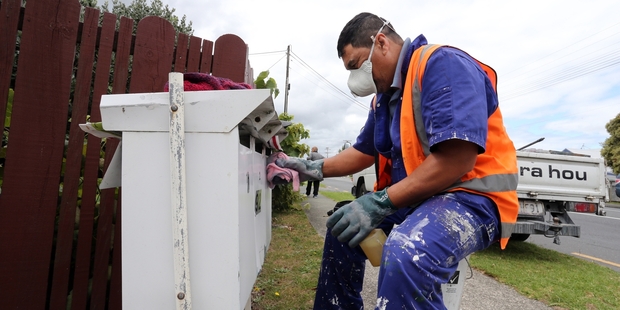 It could be days before the dozens of properties in Kensington that have been vandalised are cleaned up and the offenders caught.
Hundreds of tags in blue and red spray paint appeared yesterday morning on businesses, homes, fences and bus stops in the Kamo Rd, Park Ave and Keyte St area, in what Whangarei police constable Doug Te Puni of the crime unit said was the worst spate of graffiti he had ever seen.
Ryan Anderson mentors young offenders in a rehabilitation scheme run by Lion Den Ministries and says a spate of graffiti such as this is a sign of deeper problems in a young person.
"A lot of people just see a naughty young kid but there are always things going on behind the scenes that we try and get to the bottom of," he said.
Every Saturday Mr Anderson spends seven hours with young offenders cleaning up graffiti in the city.
Te Ora Hou manager Lou Davis said it could take days for D'Tag staff to clean the graffiti from the fences and walls and repaint them. Mr Davis has dealt directly with the both the offenders and the victims of vandalism.
"People do take it personally, they think 'why have they targeted me?'
"The people who do this are not opportunistic, they choose to go and do that, some people go to ten-pin bowling for the night, while others think [graffiti] is what I'll do for my night."
Mr Davis said he thought the vandalism was mindless, and sometimes about people marking what they think is their territory.
"Sometimes they're aware the effect it can have but the remorse just isn't there."
He encourages parents to confront their children if they think they are vandalising property.
"It's about knowing where your kids are and about taking responsibility and being willing to challenge them on it," he said.
Murals designed and painted by students at Whau Valley School were vandalised, to the horror of principal Robert Clarke.
Mr Clarke said he was angry, frustrated, and sad when he arrived at the school at 7am yesterday to find the graffiti covering walls, property and the murals.
"We got tagged on walls but the most distressing is on large murals that we spent quite a lot of money and time on. The students designed and painted it all and we are very glad we invested in anti-graffiti coating," Mr Clarke said.
Some of the graffiti featured violent language at the school and the school caretaker spent all day cleaning it up.
Mr Clarke said he had security camera footage of the offenders at the school and he hoped that would help police make arrests.
Police are making inquiries and ask anyone with any information to call Whangarei Police on 09 430 4500.
Whangarei District Council estimates the cost of vandalism, including graffiti, is $500,000 annually.
If you witness any graffiti vandalism in progress, dial 111 and ask for the police. Note down, if possible, the description of the offender(s), the clothing worn, registration and description of any vehicle and their direction of travel. If you have any information that might help identify offenders or are the subject of graffiti vandalism, please report it to your local Community Constable or to the Whangarei Police on 09 430 4500.