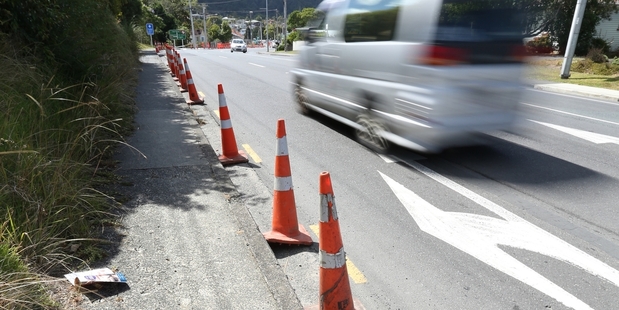 A 58-year-old Whangarei woman walking to work was shoved to the ground so violently during an attack she thought she had been hit by a truck.
The woman, who did not want to be named, was today at home nursing a bruised face and a broken arm following the street robbery.
Police continue to investigate the robbery and have called for people who were in the area at the time to come forward.
She had only been five minutes away from work and was about 100m south of the Maunu Road/SH1 intersection when she was attacked on Saturday at 7.50am. Nobody has been caught for the violent attack .
"I thought I had been run over by a truck. I remember a huge tug from behind and then I ended up hitting my face on the ground," the woman told the Advocate yesterday.
"At first thought I had knocked my teeth out but I was just cut. I've got a few loose teeth but they are all still intact."
She said she had her handbag tucked tightly under her arm as she walked along the footpath on Otaika Rd.
"It must have been hard to get off because they just ripped it off me."
As she lay in pain on the ground she recalled seeing shoes running away. A motorist who witnessed the attack stopped and helped the woman.
She was taken to hospital in an ambulance and spent hours with police explaining what happened. An X-ray showed broken bones near the top of her left shoulder.
The offender is believed to have run a short distance to a waiting vehicle, described as a silver station wagon with tinted windows, parked on SH1 opposite Matipo Place.
The woman said the most gutting thing was she had cash in her bag that had been for her twin daughters' 16th birthday which they celebrated on Sunday.
While she had never felt uneasy about walking round Whangarei streets she said she would now be looking over her shoulder.
Police want to speak to the drivers or passengers of vehicles in the area, who would have witnessed the aggravated robbery, including:
A white-coloured light truck similar in appearance to a milk truck with a refrigerator unit, heading north along SH1 towards the Maunu lights intersection.
A white coloured four-door, 4WD flat deck truck, which was heading north along SH1 towards the Maunu lights intersection.
A two-door Nissan Safari type vehicle heading south, dark grey and light grey in colour, towing a large tandem trailer.
Anyone with information can contact police on 09 430 4500 or 0800 CRIME STOPPERS.