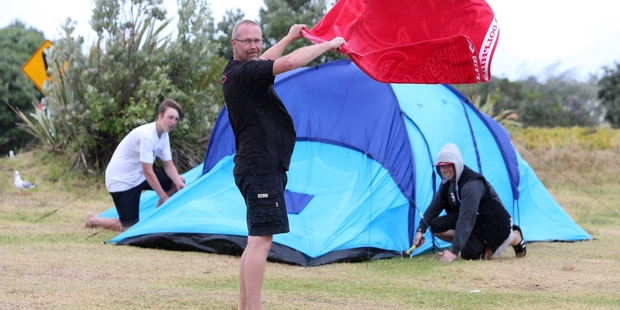 It took more than a severe wind warning and the tail end of Cyclone June to deter some good old Kiwi campers in Northland yesterday.
Campers at Uretiti adopted a positive and resilient attitude and vowed to "hunker down" until the storm had passed.
Camping stalwart Sean George reckoned he was sticking it out until the weekend and was waiting for the wind to die down. He and his family and friends hadn't let the conditions detract from their traditional camping holiday and had collected tuatua and made fritters for their tea when the Advocate visited.
He was doing some running repairs on a blue tent yesterday as the worst of the wind struck. "A few poles have snapped but I'm sure I can fix them. We are typical Kiwis here to have fun," Mr George, of Warkworth, said.
He said over the years they had experienced worse weather and, one holiday, the tent had been flattened and flooded about 2am.
Steve and Evelyn Cleverly, who swapped Snells Beach for Uretiti, said the blustery conditions were an excellent reason to peg down the tents and stay inside reading books and doing crosswords.
"This is nothing ... we've survived a weather bomb when almost every tent was flattened," Mrs Cleverly said.
Not too faraway, Bobby Koroi was putting up his tent for the third time. He was hoping a pohutukawa tree and strategically parked vehicles would help shield the tent from the wind that had turned and was coming from the southwest late yesterday afternoon. "If I have to put it up again it's not going to happen. But I've had plenty of practice today," he said with a smile.
Working hard in the background was his wife Ngaire who was moving all the kitchen and cooking gear for the third time. Mr Koroi's three mokopuna seemed undeterred by the wind and were running around. He said the weather was improving and he would be there until the weekend.
Camp managers Joe and Glenys Foster said a number of campers had packed up and left on Monday night and another lot left yesterday. There had been a few ripped tents but nothing too bad, Mrs Foster said.