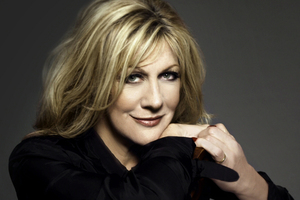 The grand dame of Australian soul and blues sounds like she would eat reporters for breakfast should they annoy her.
Renee Geyer has a rep for being difficult and I don't think she can sue me for saying that because she even called her autobiography written in 2000 Confessions of a Difficult Woman (co-written with Ed Nimmervoll).
At 10am Melbourne time, Geyer's speaking voice is deep, rich and crusty - I can hear her singing voice in there too, gutsy and soulful echoes of It's a Man's world, Say I Love You, et al - but she sounds a bit fed-up with this publicity process.
I'm calling about her gig next week at the Kerikeri stage of the Summer Soul Train Festival. She's been to New Zealand many times but never to the Far North so will she also be having a bit of a break here, I ask.
"What are you suggesting?" she wants to know. She's a professional, she says. It's her job, not a holiday. If she wanted a holiday she'd stay home.
But, she adds, she has always had a huge fan base in New Zealand, especially from Maori, during a career that has spanned more than three decades.
"I have a very big, lovely Maori following and I'm proud of it."
She's proud, too, of the ta moko she wears on the inside of her elbow. The Maori component by a ta moko artist from Gisborne symbolises Maui fishing up the North Island, and it frames one Geyer has worn for years, the name Aretha Franklin.
"I simply love it, it's so special to me ... my idol surrounded by my favourite audience."
After cracking the soul and R&B scene in Australasia in the 70s and 80s, putting out several successful albums, touring with her own and other bands, and backing some of the world's biggies - Stevie Wonder, Sting, Joe Cocker, Chaka Kahn, Bonnie Rait - Geyer spent 10 years in the United States where she had lots of session work but little chart success.
"I was working pretty constantly and surrounded by the music I love, black music from America."
Early on in LA she made what she now calls a poor business decision in ignoring advice not to put her photo on an album cover.
In her warts-and-all Difficult Woman book, Geyer describes herself as "a white Hungarian Jew from Australia sounding like a 65-year-old black man from Alabama". Her music sounded black and appealed to that audience, but her US record company was afraid listeners would desert if they saw she was a pink-faced blond chick from Downunder.
"I was standing up for myself. In that instance I might have made the wrong decision. In the early days you're prouder of who you are. You learn more as you get older, but even now my attitude is if they want what I do, then what they get is who I am."
They do want what she does, she's about to start on her 26th album. True to herself, she's not a vocal show-off; not into trilling and diving just to show what she can do.
"I sing from the heart. I've got high notes, I've got all sorts of stuff, but I'm not going to use a note just because I've got it."
About getting older, "the voice changes, of course", you couldn't get through without a healthy sense of humour, and you ... hmm. Mellow, I suggest? No, I can feel Geyer prickling over that word.
But our call has gone from cold and careful to chatty and comfortable, and full circle. To be fair, it's early in the day for this gutsy gal, and she's relaxing at home.
"When I'm away from home it's because I'm working. It's a bonus if it's somewhere beautiful, but just hanging out at home is a holiday for me," she allows.
"But this trip over there is a little bit special for me, and I can't wait."
Summer Soul Train Festival: Kainui Road Winery Kerikeri, January 25: Renee Geyer (also Billy TK jnr, Groove Shakers, Jazz Groovers, Blue Pearl, Stevie Rice, Rick Stringer, Juice on the Loose Blues Band and Abbie); Sunday 26, Bayview Hotel, Kaiaua; Thursday February 13, Cosmopolitan Club, Gisborne; Saturday February 15, Murdoch James Estate Martinborough.