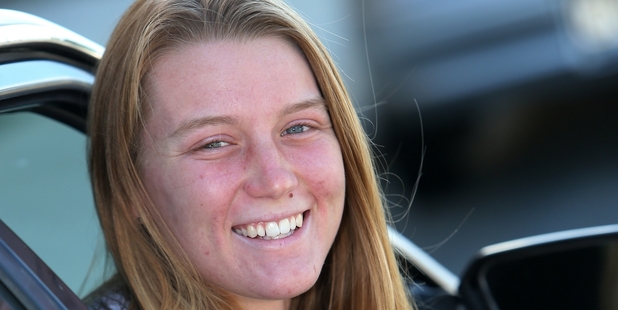 Anna Goodman is slightly embarrassed about being called "an angel" for helping at the scene of a horrific car crash.
The 16-year-old has been called an angel by the grandmother of a little girl critically injured in a two-car collision on the Russell-Whakapara Rd on Wednesday, January 8.
But the Tutukaka teenager says she did nothing out of the ordinary when she and her sister Hanna Tutaki, 17, came face to face with the near fatality.
Anna's never had to carry out emergency first aid before. But, with her father Mark Goodman a senior nurse and her mother Donna Collins a midwife, and the family spending several years living among remote communities in the red heart of Australia, Anna says it wasn't uncommon to be driving along in the Outback and a parent asking, "So you come across an accident ... what do you do?"
So, when the sisters were first on the scene of the accident on the east coast route, south of the Bay of Islands, instinct and education just kicked in.
As they headed south, they'd been following a ute until it went around. Rounding that same bend, they were seconds behind the crash that would see 5-year old Luka Herewini-Kelsen still fighting for her life in Auckland's Starship Children's Hospital a week later.
"My first thought was to run and check on everybody while Hanna phoned for help," Anna said.
Reaching the ute first, she saw the driver wasn't seriously injured. She turned to the car that had been travelling north.
"At first I didn't see the kids in the back. There was a man with seriously smashed up legs stuck in the front of the car."
Then she saw 5-year old twins Koda Herewini-Kelsen and his sister Luka in the back. Koda was uninjured but sprawled on top of his motionless sister. Anna lifted him out and passed him to Hanna to look after.
Relating the story at her family home at Whangaumu Bay, Anna calculates the events at that stage had taken only about three minutes.
She raced back to Luka who was not breathing and lying on her face in an alarmingly crumpled manner. Anna straightened her neck to clear the airways and Luka started breathing again, but only sporadically.
In the first few minutes Hanna had been out on the road to warn oncoming traffic of the crash that was out of sight around a bend. But there was no oncoming traffic, not for nearly 10 minutes until a local farmer who'd heard the collision could reach the scene. It was at least another 10 minutes before emergency services and police arrived.
Anna spent that time kneeling on the car seat, holding Luka's head to keep the neck still, while the little girl's breathing stopped and started. Anna held Luka's hand and talked to her- willing her to keep breathing, willing more help to arrive.
Then it came. As the few other passing cars were directed past the scene, the twins' father was cut free of the wreck and ambulanced to Whangarei while critically ill Luka was airlifted to Auckland.
Anna was praised by the emergency crews for her role.
"I was calm the whole time. I'm personally surprised at how calm I managed to stay," she says.
She is touched, but feels it is "an overstatement", that the twins' grandmother Hinehou Apiata has called her "an angel sent to save our little girl's life".
The Whangarei Girls' High School student who is about to start Year 13 had good news this week, solid NCEA passes. The news she is now hoping for is that a little girl is going to get better.