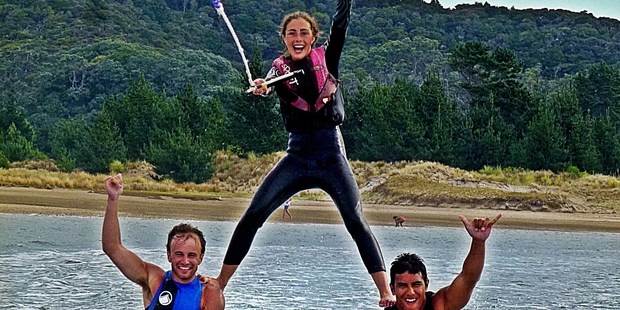 Norwegian exchange student Ingebjorg Midtaune is keen to try most things while in New Zealand - but taking part in a rare pyramid on her first foray in water skiing is one of her favourite achievements.
Inge, 17, is an STS exchange student staying with the Rouse family at Hukerenui and, on January 3, took part in a water skiing pyramid at Ngunguru just minutes after putting on water skis for the first time.
Inge's skill, and willingness to try everything, has amazed her host mother Leanne Rouse.
The Rouses are an outdoors family and Mrs Rouse said they wanted to include Inge in all their activities, if she wanted.
But she is so keen to get stuck in there's no stopping her.
"She's done water skiing, including bare-footed, wakeboarding, fishing, anything we do really, and my boys have been blown away by how well she does everything," Mrs Rouse said.
She said Inge was keen to try a water ski pyramid when there was the opportunity.
"It was the first time she'd been on the skis," Mrs Rouse said. "She's a natural really and was keen to try it. They all started with their skis on then Inge flipped hers off and stood on the back of the skis of the boys. Then she climbed on their knees, then up on to their shoulders to complete the pyramid. It was amazing and you could hear the cheers from the people on the beach and those in houses overlooking the estuary."
Inge was amazed to have completed the pyramid, something that Tim Robinson, secretary of the Northern Region Water Ski Club, says is not done too often these days.
"They used to be done far more often in the old days when the skis were different, but these days the skis are made for speed and manoeuvrability and the pyramids aren't done as often," Mr Robinson said.